Tom Braun, owner of a Tuffy Tire and Auto Service location in Clinton Township, Michigan, spent years being told no when he brought up going digital. He refused to take that as an answer, and now, years later, he is finally reaping the rewards.
Braun joined host Tom Dorsey on a recent episode of The Digital Shop® Talk Radio to talk about the hurdles he had to clear before his automotive repair shop went digital.
Braun's story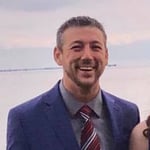 Braun began working at the franchise location he now owns 14 years ago. He started as a technician, worked his way up to general manager, and then nearly seven years ago, he purchased the location.
"Previous to buying the store, when I was just a general manager, I wanted to get into digital inspections," Braun told Dorsey, AutoVitals founder Uwe Kleinschmidt, and Senior Digital Shop Analyst and Trainer Bill Connor. "I had originally sat in on a webinar or an advertisement for AutoVitals back in 2012ish. I had always struggled to get my technicians to fully 100% complete a paper inspection. Seeing a digital inspection, I was a believer."
He wanted to get a DVI system in place where it was easy for his auto repair techs to do what he wanted them to do, a full-vehicle inspection for every car that came through the doors.
But that is where he ran into his first roadblock. Since Tuffy Tire and Auto Service is a franchise, they limit their locations to specific point of sale (POS) systems. Braun was using a POS Tuffy approved at the time, but the POS didn't integrate with AutoVitals. Additionally, the POS was working on developing its own digital vehicle inspection (DVI) platform.
So it was back to the drawing board. He gave his POS system time to develop their inspection and then used it once it launched about a year later, but Braun wasn't thrilled with it.
"They quickly pulled it back and relaunched it about a year later," he shared. "It was sometime in 2019 when we finally got it working."
Building a digital shop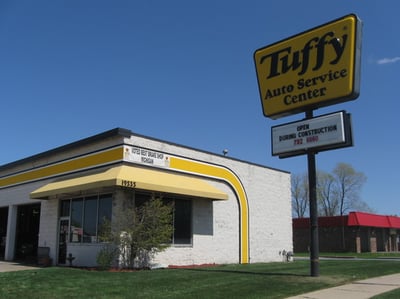 Braun's Tuffy Location in Clinton Township, Michigan.
While Braun was waiting for the DVI to become a reality, he focused on other areas where he could use technology to help his shop become more efficient.
He wanted to create processes and procedures so his shop had a standard operating procedure (SOP) everyone could follow.
At the time, they had a paper they printed out each day that would track every time a car would come in. They would assign the vehicle to a technician by drawing their initials on the board, order the parts, etc. While this worked for a bit, Braun soon decided to "steer the ship" using Google Sheets.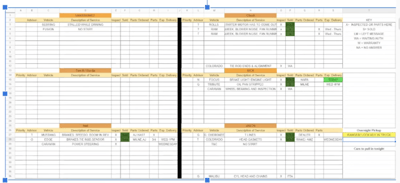 A view of the Google Sheets that Braun used to direct workflow in his shop.
One unintended benefit that came from switching to an online platform like Google was cleaner carpets.
"I remember the days we'd open the shop in the morning, and I'd be up at the front counter writing up the customers into the computer system, and all of a sudden, you look to your right, and you've got three or four technicians standing there going 'What are we working on today?'" Braun said. "It's kind of nice now. They don't have to come to the front counter. The carpets are a lot cleaner in the lobby now."
All joking aside, Braun was eager to have a digital workflow system put in place.
Leaps and bounds of difference
Not only was he hoping to expand his shop from one service advisor (himself) to more, but he has dreams of eventually owning multiple shops. He knew to reach these goals, a digital solution was necessary.
"Back in the day when I did all the service writing and all the customer communications by myself, that was one thing," he told Dorsey, Uwe, and Bill. "It was still difficult to remember everybody you needed to call at the end of the day, you still had challenges, but there was only one guy to blame. When you start adding a receptionist and a second service advisor...it certainly makes it a lot easier to know what the other person's done already."
Then, in November 2019, Braun and his Tuffy crew were finally conducting DVIs.
"It's a huge difference," he said. "Going from paper inspection to the digital inspection is one humongous step."
In 2020, nearly eight years after he initially saw The Digital Shop® sales presentation, Braun was finally able to switch to AutoVitals' complete success solution. Just a few months in, and he sees incredible results already.
"When I took over the store, we were running right around a $200-$250 ticket average," Braun shared. "In 2017, it was $296. We jumped over $300 in 2018, so it took me from 2014 to 2018 to get that little just about $100 per ticket. Then going from $314 in 2018 and 2019 it was November when we launched digital inspection, and in 2020 with a pandemic and guys being out of work, our ticket average here is $409 through November."
Not only is the ARO increasing, but Braun and his crew feel like they're getting a better and fuller inspection from AutoVitals. Previous DVI systems they had used allowed pencil whipping, but since AutoVitals requires pictures for every failed part, Braun knows the technician put their eyes on it.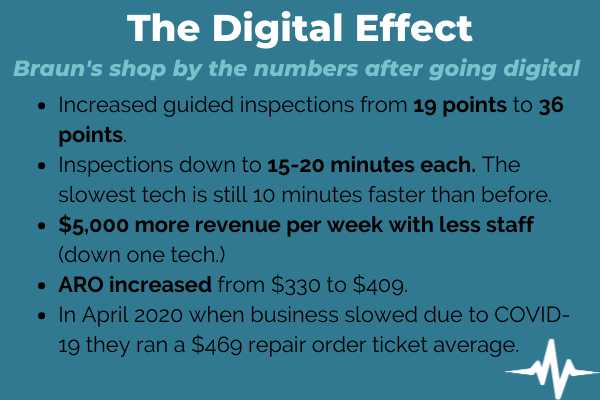 When the rubber meets the road
From the beginning, Braun has been adamant with his guys; they need to trust the system. He made it clear to his crew they're going to try everything to make this a success. But when Bill told Braun it was time to start sending out the DVI to motorists, even Braun was a bit nervous.
"I said, 'Bill, I don't think I like that idea,'" Braun shared. "Bill said, 'Tom, just trust but verify.'"
It didn't take him long to realize Bill was right.
The second inspection he sent out to a customer played out perfectly. He sent the DVI, and the motorist called in about 10 minutes later. Braun said he had his estimate all ready to go, and he walked her through the inspection. When he got to the end and gave her a total, she said, "What about the brake flush?"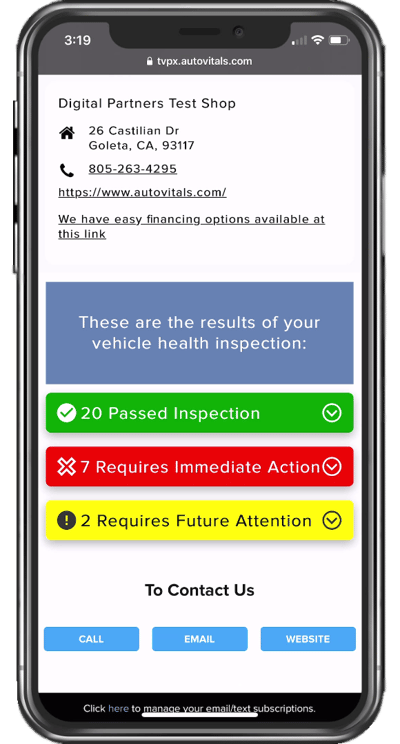 A motorist view of the DVI.
"The customer said, 'Well, on the inspection you sent me, it said there was a brake flush needed,'" Braun said. "I opened the inspection up, and when I was building the estimate, I completely overlooked that brake flush."
Braun and his shop staff have always worked to educate their motorists, be transparent about what is wrong with their vehicle, and let them decide. However, his experience with AutoVitals so far has been a total game-changer.
"This is even better because they can read it," Braun said about the DVI. "They can do the research and see why they need a brake flush. It's nice to see that the systems that Bill and AutoVitals have taught us and that we've implemented, they've just worked tenfold."
Turning a tire shop into a one-stop shop
Braun knows going digital with AutoVitals, meant a complete reboot for his shop - and that is exactly what he wanted.
"You know you're going to have those ten percenters," Braun told Dorsey and his expert panel of experts. "I think everybody knows the ten percenters, but you know 90% of your customer base, 90% of people that visit, they want to know what's going on with their vehicle."
Braun has found some people do shy away when he introduces the DVI, but he makes sure to explain why his shop is focused on more than just tires.
"Our job is to inspect your vehicle and educate you, let you know what you have going on," he said. "Then, it's completely up to you Mr. or Mrs. Customer. If you're here for tires and we find that you need ball joints, I am going to tell you about it because it's going to wear those tires."
It is easy to identify the symptoms, he said, but the inspection allows them to find what's causing it.
While he knows some people aren't going to want the full digital shop experience, there are 15 or 20 motorists right behind them that do.
AutoVitals features making a difference for Braun
While Braun is relatively new to AutoVitals success solution, he has already found several features which make his life easier.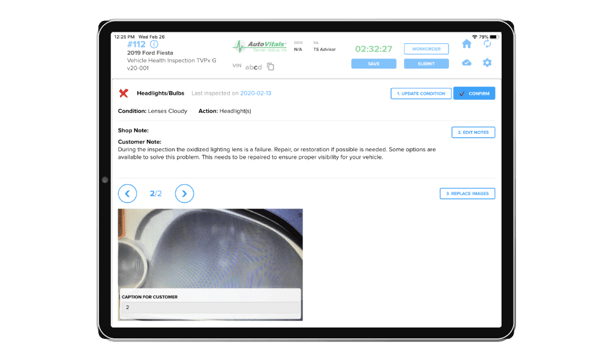 A view of the DVI.X Guided Inspection.
"If you mark something as a failure, it shows you an example of what type of pictures you should take to support that type of failure," Braun explained. "Then it also has pre-written relevant customer notes, and they're written so well."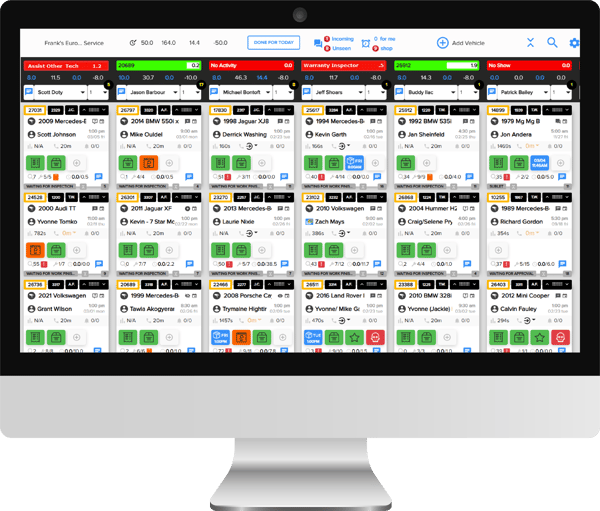 A view of TeE-Times on the TVP.
TeE-Times

- In order to make sure his technicians are productive, Braun has been stressing the use of Technician Equivalent Time. When the techs haven't selected their task, he just types them a message to remind them to pick the car they are working on or choose from a list of other TeE-Time options.
Braun uses the information he collects from TeE-Times to make his shop as efficient as possible and build a team environment where everyone can see how they play important roles.
"If I see that you're waiting on parts 20% of your day, every day, then procedurally we've got to fix something," he said. "If it shows me that you're outside smoking cigarettes 20% of your day, well, then that's something you've got to work on."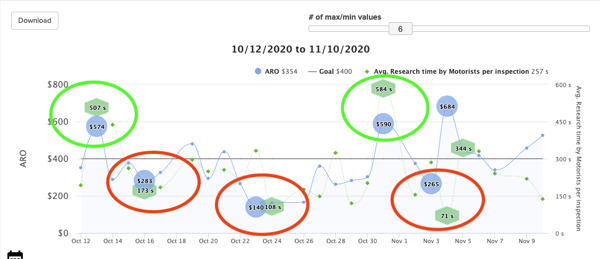 KPIs in the Business Control Panel (BCP) where you can monitor your data.
Data collection

- Monitoring shop progress with data is essential, and for Braun, it made all the difference when he was out of his shop for ten days.
"My ticket average was down under $400 those ten days, and I told Bill, we've got to retrain, go over the policies and procedures one more time," Braun shared. "Bill said, 'Well, you don't have to start at the beginning. That's the good news."
Braun could see that while he was gone, the rate of inspections decreased from around 100% to about 50%.
"The symptom was the sales were down, but the case of that failure was incomplete inspections," he said. With the data, "we're able to identify that without retraining the whole staff."
For those who are considering The Digital Shop®, Braun has a few words of advice.
Be honest with your staff about what you're trying to do and what your goals are.
Get your staff involved, and as Bill says, "trust, but verify."
"Bill has proved to me, and AutoVitals has proved to me that the programs and their systems work," Braun said. "I've proven it to be true in my shop."
Watch the full episode here:
How to contact Braun and Tuffy Tire & Auto Service in Clinton Township, Michigan: