The path to multi-shop ownership couldn't look more different for these two digital auto repair shop owners, proving there isn't just one path to success.
From the bottom to the top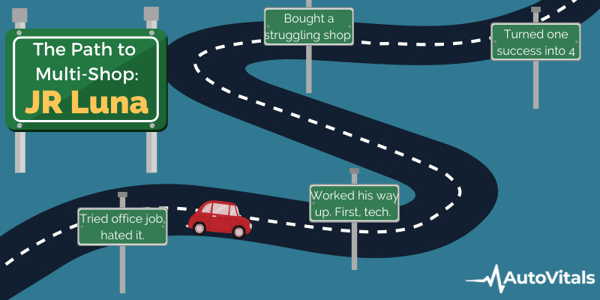 JR Luna, owner of four locations in California, started working at a local dealership when he was growing up, sweeping the floors and helping in any way he could. When he went to college, he got a Bachelor's Degree in Business Management and planned to become a CEO. Those dreams quickly changed when he began working behind a desk wearing a white shirt and hated every minute of it.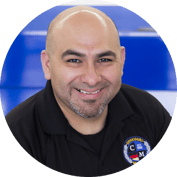 "I belong in the shop," JR told host Tom Dorsey, founder of AutoVitals Uwe Kleinschmidt, and fellow multi-shop owner Fred Haynes on a recent episode of The Digital ShopⓇ Talk Radio. "I belong with the guys swinging a hammer or test-driving a car with no exhaust."
He worked as an auto technician at Goodyear and eventually became a service manager and then store manager.
"After years of that, I finished university, and I ventured out to mortgage our house and bought Concours Motors," JR said. "It was a failing shop, it was very small, and throughout the years with just myself and one employee, we kept growing and moving forward. Today we have 25 employees and three locations going on four."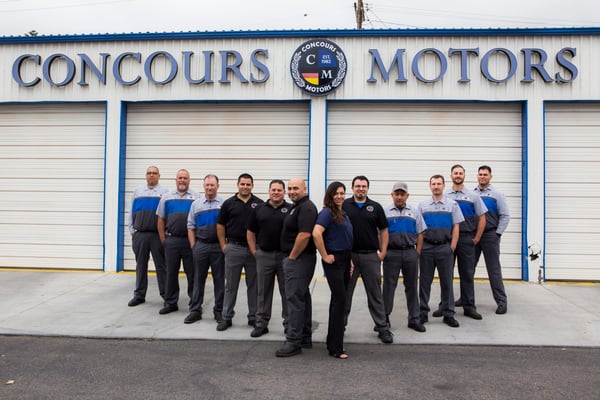 JR and his crew at his first shop, Concours Motors.
From IT to automotive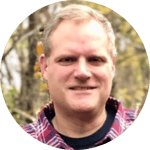 For Fred, it wasn't about cars.
His background is in IT, and he worked for General Electric for 18 years before his division was sold to a Swiss company. He moved to Switzerland and worked there for another ten years, but when he decided to come back to the United States, he had to figure out what he wanted to do.
Fred didn't want to continue doing what he was doing, and he didn't want to start a consulting firm, so he began looking at franchise options.
"I ultimately evaluated several opportunities and decided on Honest-1 because I really liked what the brand stood for, and I really liked the regional folks I was working with at the time that were here to help me be successful," Fred said.

His first shop came up in 2012, he built another one from the ground up in 2014, acquired a spec shop in 2015, and bought a co-franchisees location in 2017. Now he is working full-time on his four Minnesota locations.
"It was really more about the brand," he said. "I didn't know a ton about the industry, except for my own experience. I think that there's a lot of opportunity if you do it right, but there's also a lot of competition."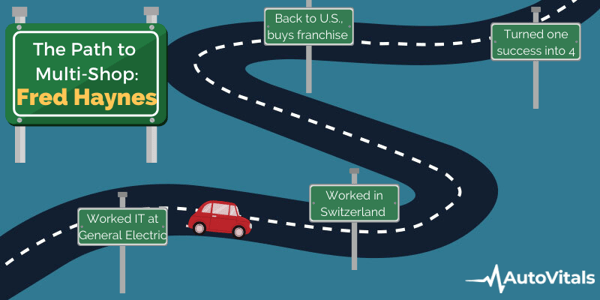 How people and technology have made the difference
While their backgrounds couldn't be more different, both Fred and JR attribute their success to surrounding themselves with good people and using The Digital ShopⓇ.
"It's been a long ride here, but I think once you get momentum doing something and you begin doing well, you kind of find the formula," JR said. "You find yourself a great team like I have been lucky to have, great managers, a great group of people."
JR was one of the very first AutoVitals customers.
"Every time I call tech support, they get shocked that I'm like customer seven or something," he told Tom, Uwe, and Fred.
Fred joined a bit later, but going digital was an obvious choice for him.
"There's a lot of great information about what's going on in [our POS], but it's not good at, it doesn't really do inspections," Fred reminisced.
He used to have to go through paper inspections to gain visibility to see if his staff was following the standard operating procedures or not and if they were allowing themselves to sell.
"That's what led me to AutoVitals," Fred shared. "I said, 'I think this is a real opportunity to gain insight in an area that isn't easy to have insight in.' Now I do have a much better understanding of how well we're handling the vehicle from the time the guest drops it off until the time that we hand it off to them."
The importance of the Digital Standard Operating Procedure (DSOP)
The structure and the components of the digital shop operating procedure (DSOP) have also proved critical in their success.
Both JR and Fred acknowledged that, since they are working with humans, there can be excuses and inconsistency.
"It's very easy as a human being when things don't go well to say, 'It's because the sunshine didn't hit the dog today, or it rained,'" Fred said. "You will never hear, 'We didn't do great inspections today, or I decided I wasn't going to try to sell anything to this guy because I didn't think he would buy.' You never hear the real reasons, right? You always hear other reasons that are things that the individual can't control."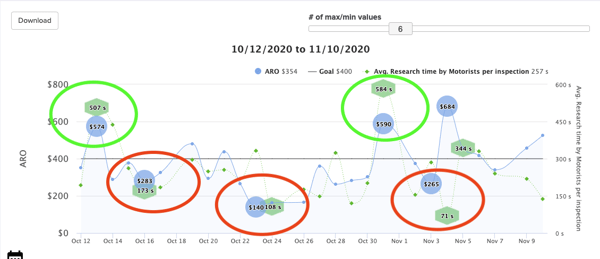 A view of the BCP looking at trends between the ARO and average motorists research time (MRT).
That is where the standard operating procedure and AutoVitals business control panel (BCP) comes in.
"We all need coaching, and we all need the structure, and I think the structure that AutoVitals gives you is really great," JR said. "It's really a huge building block on what you can do with your service."

Uwe added that the DSOP allows for shop owners to evaluate their crew in every aspect of their skills, not only the technical skills but also attitude.
"You cannot really separate the two," Uwe said. "One doesn't work without the other, or one cannot compensate completely the other."
Fred agrees, and he puts a lot of thought and time into those evaluations.
"How do people approach things in my organization that are head and shoulders above some of the others in the organization, and how do I, through standard operating procedures training and learning, take those folks who aren't as successful and give them some nuggets so that they can start to raise their game and get closer to the guy that's better," he said.
Using the BCP and developing a strong shop culture, both JR and Fred spend their time looking at ways to improve their processes and procedures to guarantee their customers are getting a consistent and pleasant experience.
"It's also recognizing that there isn't just one way to succeed, right?" Fred shared. "There are different styles. There are different approaches that can work."
Watch the full episode here:
Want to hear more from Fred?
Listen to his last Digital Shop Talk® Radio appearance here
Want to hear more from JR?
Listen to his last Digital Shop Talk® Radio appearance here