Bill Connor has loved cars since he was little. It might have started with his uncle, who he helped repair cars with when he was young, it may have been the service stations he hung around before and after school, or it might merely have been the era he grew up in.

"I grew up in a time of fast cars, and when hot rods were the thing," he said.
It is a love that has lasted his lifetime.
Turning cars into a career

He "officially" started in the automotive industry in 1982 when he began working in, running, and managing full-service gas stations like Shell, Texaco, and Exxon. Later, he switched to working at independent Firestone, and then NAPA Autocare Centers. Bill was even named the Local NAPA ASE Technician of the Year in Dallas several times.
He was managing a NAPA shop in Allen, Texas, when he started working with Uwe Kleinschmidt, the founder of AutoVitals, in 2013.
Bill said he initially started working with AutoVitals to benefit him and the shop he was managing at the time, but that soon morphed, and he began doing AutoVitals training for others in the industry. In 2018, Bill started working full-time with the AutoVitals team.
"Since early conversations with Uwe, I have seen an opportunity to be part of lifting the independent vehicle service industry to a better place by being a part of building trust with the motorist and streamlining shop processes," Bill said. "I also believe there is as much of a shortage of proper shop processes as there is a tech shortage. AutoVitals workflow and labor inventory management create ways to measure and maximize staffing."
AutoVitals role
While he has worn several hats at AutoVitals through the years, his current role is Senior Digital Shop Analyst and Trainer. He spends his days analyzing the POS systems which integrate with AutoVitals while also working with AutoVitals shops. His focus on industry best practices and training have resulted in highly successful shops. It has also forged relationships that allow AutoVitals to work with shops on product development.
The cycle of success and continued innovation is one of the things that makes Bill most proud to work at AutoVitals.
AutoVitals offers "fearless innovation in a motorist-centric way," Bill said. He is also proud of how AutoVitals works continuously to help the shops they work with improve.
Bill's favorite AutoVitals tools
A recent update to the TVP is Bill's favorite AutoVitals tool currently. Guided inspection allows techs and service advisors to save time by having text auto-populate in the digital vehicle inspection.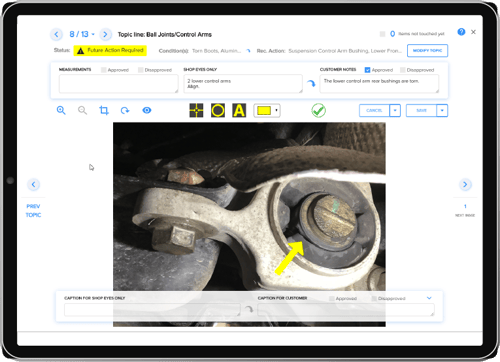 A screenshot of the guided inspection feature which auto-populates text to save time for techs and service advisors.
"Used properly, [guided inspection] allows quick, consistent inspections with standardized messages no matter who does the inspection," Bill said.
For Bill, who has been in the industry long enough to remember when paper and pencil were the highest forms of technology shops had, the TVP.X is a game-changer.
"In the past, I've used the large paper forms and spreadsheet methods of dispatch, along with work order racks where the techs could cherry-pick," he said. "Today, everything needed to make quick choices and monitor progress is right in view and updates with little effort."
Automotive industry changes
2020 has been a tough year, but Bill thinks some of the changes auto repair shops have had to make are good for the industry.
"Current world events have forced us to adapt for no contact vehicle service," he said. "It's good for the motorist and good for the shop. We have tried for years to get the motorist to make appointments, drop their vehicle off, and let us contact them. There is no need for show and tell at the side of the vehicle; we send it to them. The industry has once again evolved, and you need to change with it."
Auto repair is no longer about repair and maintenance; instead, it is about delivering safe, comfortable, and dependable vehicles, Bill said. AutoVitals does that by providing a condition-based inspection on every visit and providing the motorist with all the content they need to make informed choices at the proper time or the service visit. Customers can do this all while away from the shop, spending time in ways they value.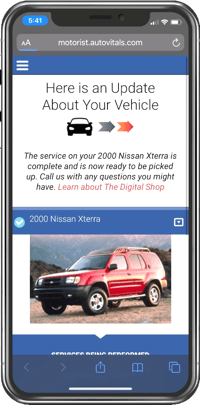 A view of the report sent to motorists after a digital shop completes their inspection.
Sharing repair shop success stories
Bill said there are too many AutoVitals success stories for him to share, but he takes special pride in the times when shops he has worked with go on to speak at conferences or are guests on The Digital Shop Talk Radio, and not for the reason you might think.
It isn't about notoriety. When shops share what they have learned with their peers, that is what Bill is most proud of.
"Not that they learn, but that they pass on what they have learned by sharing with others," he said.
There is a lot to be proud of already, but Bill, Uwe, and the AutoVitals team aren't planning on stopping anytime soon.
Next up, the AutoVitals team is focusing on using automation and artificial intelligence (AI) to save the shop time while simultaneously allowing motorists to get the information they need.
"The ability for the motorist to communicate with the shop in a digital way, further leveraging the data we have for existing customers, and enabling new customer acquisition through a chat to save the SA time," is what Bill is most looking forward too.
"Who's in Our Shop" is a series created to give you a behind the counter look at the people who make up AutoVitals. Subscribe to our blog so you don't miss the next installment.