Nick Fabian began his career as an auto technician doing paper inspections, but when he started at Russ's Wrench, in Clinton, New Jersey, he had to throw out everything he knew and go digital.
"It was a complete 180 from paper inspections and just the way the whole system is ran," Nick told Tom Dorsey, host of The Digital Shop Talk Radio, in episode 56. "When I got to it and had the opportunity to go digital, it was a game-changer. It changed everything. Me, personally on how I look at vehicles. I love the thoroughness of it. It's a good system. I love it."
From paper to digital: a smooth transition
Russ Crosby, the owner of Russ's Wrench, knows how fortunate he is to have an auto repair tech like Nick, who adapted to the digital shop as quickly as he did.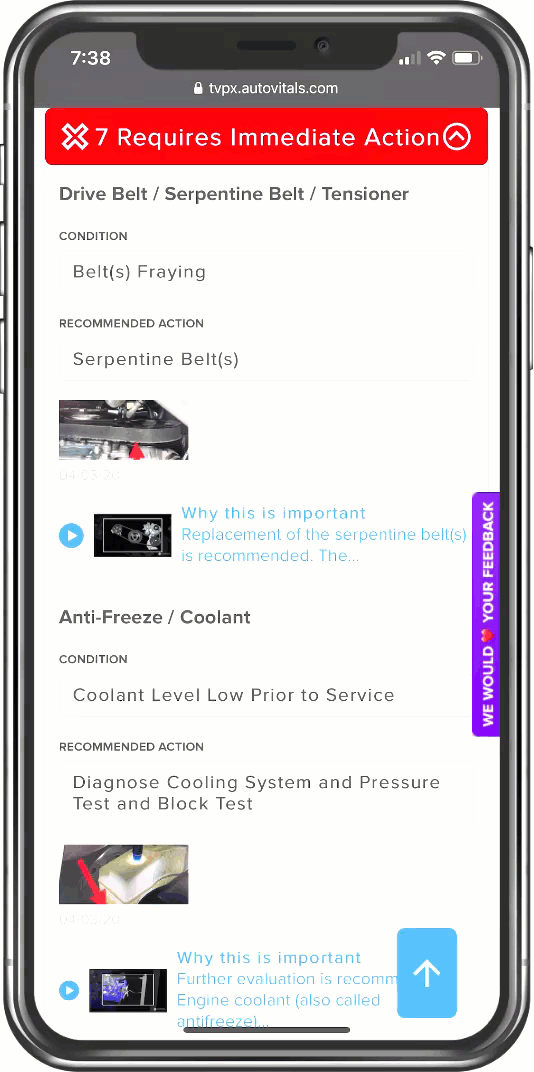 "I went into it [the digital shop] with an open mind," Nick said. "I'm always one for adapting to different things."
Nick's willingness to have an open mind made the transition easier, while Russ's implementation of the digital shop, including the digital vehicle inspection (DVI), ensured his crew was on board.
"I think with the help of Nick and my other guys, we've molded the inspection so that it's really tailored to us," Russ said. "I listen to them every week, and we're tweaking it constantly, making these little adjustments to try and make those inspections faster and more thorough."
By listening to his auto techs, Russ has found a way to keep vehicle inspections running smoothly, while also helping buy-in.
"Being able to customize the layout to be efficient but still have a level of being thorough enough, but tailoring it to our way is the best," Nick said. "I love how we can do that. It just helps out with all the variables mixed in there. We can go in there, we can get into a rhythm with it, and we feel confident when we submit that up front to the desk, and they can take their part."
While the transition for Russ and his shop was relatively seamless, he understands not all auto repair techs are as willing to adapt.
"There's probably guys out there, or gals out there, that have an issue implementing this in the shop," Russ said. "Push back, right? And I totally can see why, when we're creatures of habit as automotive technicians. We know that [paper and pencil inspections] work, why change it? But the reality is it doesn't really work that well when you have to run back and forth to your office to drop that off, and then your writer can't read your handwriting because we're much like doctors, we've got chicken scratch, most of us can't read the writing. Then running back and forth. You can't take pictures, and you can't really dial in on what it is that you're trying to sell, so you are wasting time."
When you explain this to your auto technicians, and they help you to build the digital process, you get buy-in and start on the road to success, according to Russ.
Rome

A Digital Shop wasn't built in a day
Even with an open mind, it took some time for Nick to adjust to the DVI. Previously, the auto repair shops he was working at had the same repair orders with the same layout and similar multi-points. The digital inspection required a bit of an adjustment.
When the DVI was initially implemented, Russ said comprehensive vehicle inspections were taking between 45 minutes and an hour. Now, they have them down to 15-20 minutes, and they are more thorough than the old paper inspections.
"I got used to [the digital layout], and I quickly realized how much more thorough I could be with inspecting a vehicle," Nick said. "It builds your confidence up, too."
Previously, Nick would second-guess himself, wondering if he should be taking more time to look at certain things, but he says the DVI removes that guesswork.
"Okay, we're going to inspect this, we're going to look at that, we're going to go through all of these things," Nick said. "That was the game-changer. It took a lot of questions that I had and second-guessing moments out of the equation. Now, we get to get to the nitty-gritty of it and fine-tune it and tailor it to the way we want it to really go even further and be even more efficient with it and thorough."
Russ takes the DVI a step further using the Business Control Panel (BCP).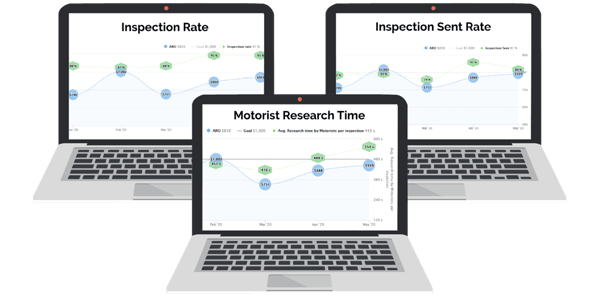 The BCP gives your shop key metrics, giving shops a detailed real-time look into the health of their shop
"When numbers are a little down or something, you can see exactly where your inspections are and hone in on what we have to focus on to improve hours per ticket or ARO or whatever," he said."
Keeping up the momentum
Digital inspections have also allowed Nick to see a difference on the backend, too. The recommended work is being sold.
"We're so thorough with it, customers don't even think twice about it sometimes," he said. "They just go for it. They see it, and they're like, 'Oh, there's the problem.' It's a no-brainer."
That sold work starts a snowball effect for the techs, Nick said.
"Everybody's drive went up once they saw that happening," he said. "Everybody's incentive was just motivated from there on out."
The DVI also creates a domino effect for the customers and service writers.
"The easier we make it for our writers, the easier it is for them to sell the work," Russ told Tom. "AutoVitals really trains us to get that work order basically to the customer and let them pre-sell themselves on the information we're giving them. Once the guys adopted that and understood that it was a game-changer."
Now, Russ says everyone understands the reason they have to do the DVI in a certain way.
"It's going to help you create more hours without really doing any more work," he said. "An extra minute here is going to provide you with potentially two hours worth of work, and it happens all the time."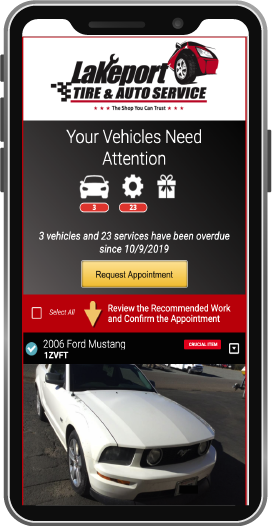 Rainy day work
Nick and Russ have also noticed the DVI allows for work on those days when the repair shop is a bit slow, thanks to service history.
"We build these plans, and those plans ultimately help us in times where it slows down a little bit," Russ said. "You can call up the customer and say, 'Hey, you were here last month, we did a bunch of work, how's that working for you? Great, can we get you back in to do the rest of the work or part of the work?'"
This gives you a chance to check in with the motorist, and it also gives you a bit of insurance.
"That all starts with the technician, and that's kind of like an insurance policy for the technicians," Russ said. "In those times where we could slow up, we get on the phone immediately and start making those calls to fill that schedule with the work they've already done."
Growing pains
Earlier this year, Russ and Nick went to The Digital Shop Conference, and they took some of the things they learned and were changing their DVI as they waited to board their flight at the airport.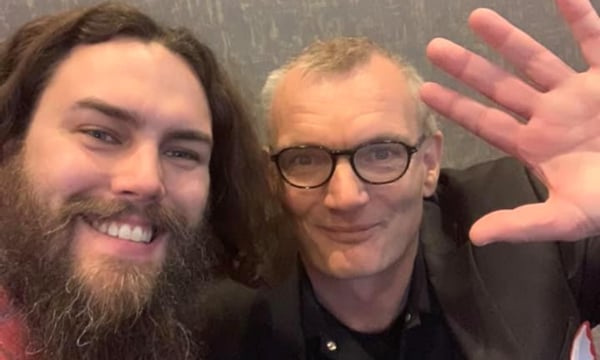 Russ Crosby with AutoVitals founder Uwe Kleinschmidt at The Digital Shop® Conference 2020
"We learned a lot of tips and tricks on how to change certain things in our inspection and got back, and you know, we're selling all this crazy work that we weren't doing before because now we knew how to make those adjustments," Russ said.
As an auto repair shop owner, Russ understands how daunting it can be to transition to a digital shop. He knows there were times when his guys were ready to throw their tablets on to the highway. But he didn't give up, because he knows this is the way the industry is going.
"It is important to persevere and keep pushing forward and don't get upset but continue to empower your team to want to do it, however, you have to do it," Russ said.
Want to hear more from Russ?
How to contact Russ and Russ's Wrench: