If you could triple your ARO in 24 months with the same car count, would you do it? How about increasing your weekly revenue by more than 80% with the same staff in just two years? These aren't just dream scenarios, they are actual results achieved by shops who have gone digital.
"The increases seem to be so out of this world that you would think 'these shops must have special powers or a lot of luck,'" said Uwe Kleinschmidt, founder of AutoVitals.
In reality, they all have these five things in common.
1. The shop owner has to own going digital
If the shop owner isn't fully bought-in and dedicated to making a change, it is going to show. Staff won't take it seriously because the owner isn't, and that will only lead to sluggish implementation and stunted success.
Don't think delegating to a staff member fixes this problem. We have seen processes slowed, and in some cases, it has made it impossible to create the significant and lasting changes that a digital shop requires to be successful.
2. Shops have to be willing to adjust the process and team culture to be tremendously successful
Changing habits can be hard, especially for people who have been in the automotive industry for decades. Yet time and again we see those changes making the biggest differences.
We know you can't stop your shop in its tracks before implementing these changes, but that doesn't mean you can't change things along the way. Uwe likes to refer to it as "fixing the engine while flying the airplane."
3. Data matters and should be used
Reviewing data regularly creates a culture of accountability, just ask Frank Scandura, Dave Earp, or any of the other shop owners who run regular shop meetings. Each week, they look at their key performance indicators (KPIs) for the shop and celebrate wins, make changes, and set goals to continually improve.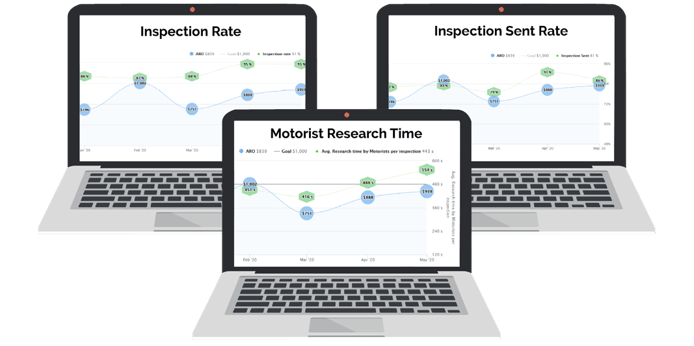 4. If you have questions, AutoVitals has answers
AutoVitals has an entire team of trainers who work closely with shop owners to problem-solve, and share ideas. Many of the trainers are former shop managers, service advisors, who have used digital tools in their shops before joining AutoVitals.
5. Things may get "worse" before they get better
Every situation is different, but when you are making big changes, things may seem to go in the wrong direction until you have your feet under you. Depending on the dedication and preparation, in the beginning, inspections may take longer, and your ARO may not increase as quickly as you hoped, but we have more than 1,500 auto repair shops using AutoVitals that will tell you to hold steady, the results are coming.
Additional Resources
Earlier this year, Uwe and Tom Dorsey, host of The Digital Shop® Talk Radio put together 10 episodes that go step-by-step through the journey of a repair shop going digital. They invited shop owners who have walked this trail to share their insights and hosted AutoVitals Trainers who did a deeper dive into the nitty-gritty of how to implement the Digital Standard Operating Procedure.
Step 1: The Technician Buy-In
Step 2: The Service Advisor Buy-In
Step 3: The Digital Inspection Sheet is Definitely Different
Step 4: Changes in the Inspection Process Create Quick Wins
Step 5: Educating the Motorist for Higher Approval
Step 6: Managing Motorist's Expectations
Step 7: Scoring Higher ARO
Step 8: Doing More in Less Time, The Amazon Rule on Steroids
Step 9: Why Digital Service Advisors Need a Gym Membership
Step 10: Why are Production and Task Managers the Key to Success?