A digital shop doesn't require a superhuman in a cape, Tom Dorsey told Chris Scully, David Saline, and Roy Foster when he was a guest on DRIVE Facebook Live earlier this week. Instead, it requires two much more manageable things: a decision and some commitment.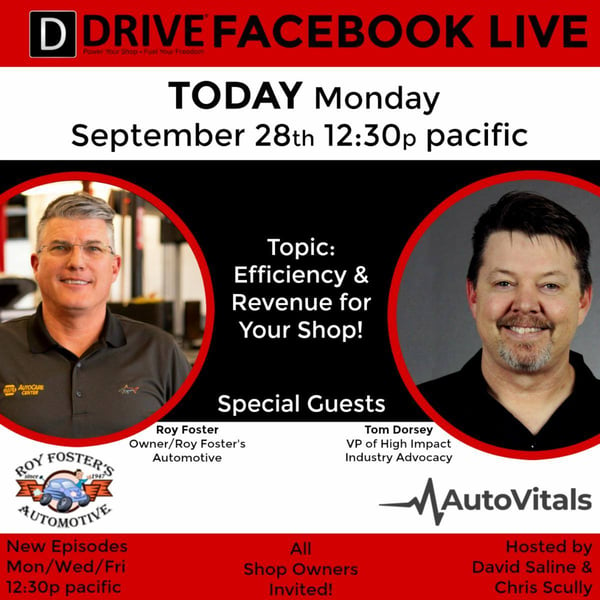 Tom, host of The Digital Shop Talk Radio, was on the other side of the mic this week, discussing shop efficiency with AutoVitals customer Roy, owner of Roy Foster's Automotive in Reno, Nevada, and DRIVE Facebook Live hosts Chris and David.
The COVID Effect
Talking shop in 2020 requires a check-in about business during COVID, and for Roy and many AutoVitals clients, the digital shop has made all the difference.
"That's why we are fortunate," Roy told the DRIVE hosts. "We were prepared, not even knowing what we were preparing for, just trying to get best business practices in place all the time."
He said the processes and technology his shop had in place all came into play and pulled them through. His ARO has gone way up, and having fewer cars has allowed for even more buy-in from his crew because they can use the digital vehicle inspection to do a thorough job.
Tom has seen the same practice echoed by AutoVitals shops across the country.
"Even though car counts maintained 25% lower than normal, AROs were way up because I think it gave people the time to really embrace the best practices, get used to it, build the muscle memory, and make it consistent," he said.
Now, Tom and many in the industry are looking ahead to post-COVID and wondering what the future looks like.
"Do we go back to chasing all those cars again?" Tom asked. "Or do we like making more with less and all the options and available opportunities that that type of operation provides?"
The difference between paper and digital
Roy thinks the lower car count and higher ARO is ideal and acknowledges without The Digital ShopⓇ, his shop wouldn't be where it is today.
"It's the best tool that we've seen in the industry since the scan tool probably. It's just incredible."

- Roy Foster
Tom looks at digital shops as a way to provide an educational story to motorists.
The tech is the author drafting the story, he said. The service writer is the editor who gets the inspection report ready for publishing and sends it off to the customer. Finally, the motorist is the reader who hopefully shares with their friends and turns it into a bestseller.
This process doesn't only make shops more efficient, but it also allows every person in the shop to have their voice and share the whole picture.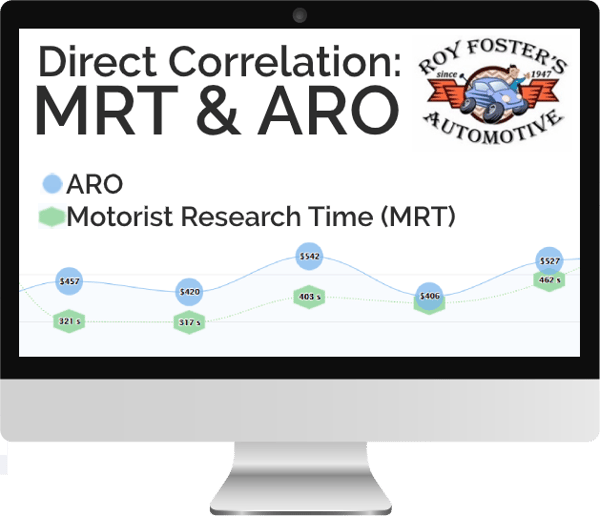 Roy and Tom agree there is an easy way to check your digital shop is working: motorist research time.
"We boil it down into one KPI; we look at the motorist research time," Tom said. "So, we know that all of the individual efforts culminate in success if we can drive that motorist research time above 240 seconds as a baseline. Roy is up in the 700s. The longer that I am in that inspection sheet, the more likely I am to convert. I am actually considering and educating myself on what's going to happen, what I need."
Watch the entire episode here:
If you want to hear more from Tom, check out The Digital Shop® Talk Radio. New episodes come out each Wednesday at 10 a.m. PT.
How to contact Roy: