Technology has made an enormous difference for auto repair shop owner Mike Button. Not only has his new POS system allowed him to transition from one shop to three smoothly, but other tools, including AutoVitals TVP.X, have made it possible for his service advisor (SA) to do more in the same amount of time.

He joined The Digital Shop® Talk Radio host Tom Dorsey and David Saline VP of Sales at DRIVE Shops in a recent episode to discuss the training and technology that has transformed his shops.
Tools

Technology of the automotive trade
The last time Mike stopped by The Digital Shop® Talk Radio, he discussed the strong possibility he would soon be opening a third Affordable Automotive location in Chico, California. Now, eight months later, his third location is up and running, and he needed some new technology to make it happen.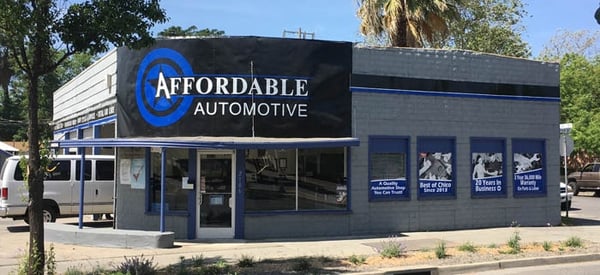 1. Updating the POS to Protractor
The POS system he had been using for more than two decades wasn't able to handle multiple locations. Since transferring to Protractor, a cloud-based software, he has seen a significant improvement in his daily tasks.
"Now I've got a cloud-based software that can be accessed remotely from either shop, either location," he said. "The shops can talk to each other through it, and it really has been a game-changer for me."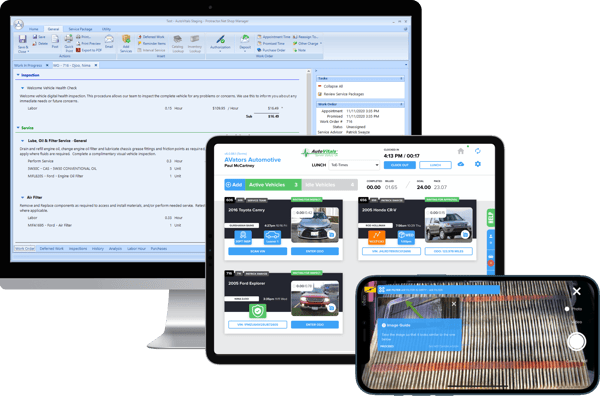 A view of the Protractor and AutoVitals integration.
That isn't to say there weren't some growing pains.
"We've had some ups and downs with the launching of the software," he told Tom and David.
However, to minimize the hiccups and keep the shops running smoothly, Mike reached out to several shop owners who had already made the switch to Protractor. This allowed him to know what challenges might come up and prepare for them. He also made sure to train his staff on the new technology before they made the switch.
"Initially, it's all about training and onboarding and doing it as quickly as you can," Mike said. "For us, we didn't want the downtime because we are such a busy shop."
With all of his planning and preparation, the transition went smoother than it would've otherwise. But getting his 10 SA's to write a ticket in the same way, was a hurdle they still had to address.
In addition to working with AutoVitals for his digital shop, Mike also uses DRIVE Shops for coaching, and David said Mike did everything right when it comes to a significant change, like updating your POS.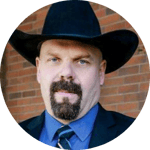 "The first step is research," David told Tom and Mike.
Not only should you research the product you are considering, but also reach out to other shop owners who use it. David also said to reach out to your current systems, whether using AutoVitals or another company, to ensure they have integrations and see what issues might come up.
David pointed out the research step is especially crucial when switching POS software since the POS is where all your most valuable data comes from.
Mike has already noticed a difference with the data he can collect and analyze with his new POS.
"I'm not here to promote any type of software," he told Tom and David. "One works well for us, and I really, really like the integration with AutoVitals. AutoVitals is a staple here in our shop. If it goes down or anything happens, those guys throw a fit. It's something they rely on and depend on to be as successful as they are."
Mike's crew bought in early on, and it didn't take much for them to transition to new software.
"I'm a big numbers guy, and our former software, it didn't have reports like Protractor does to where I can really dig into certain areas and find the inefficiencies that we can improve on."
That has been a benefit for Mike, since with his previous POS, it may have taken months before he could realize where specific problems were. Now he can act much sooner.
Turning inefficiency into productivity can greatly impact your shop revenue, especially when your service advisor is handling more work. For Mike, this means using the updated TVP.X Task Manager from AutoVitals.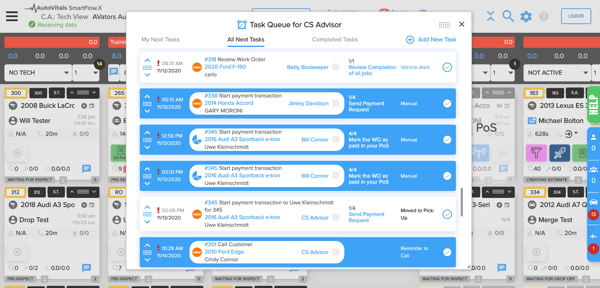 "[The SA is] the same guy that's been here for the last five years working the same amount of time each day," Mike told Tom and David. "How do I get that guy to do more? So, having access to that task manager, I think, will be the deal maker. We chase shiny bright objects. I mean, we get pulled off of things, it's life, we're just human, but to have that bar or that icon at the top of the screen and it's kind of your to-do list for the day, I think it will really help get these guys to get more done in a day."
The Task Manager creates and keeps a to-do list prioritized by time. You can add tasks manually, or the SmartFlow software will create them, and the top of the list will always have the most critical job. SA's are often interrupted, but the Task Manager will keep tasks on your list until you have marked them complete. No more forgetting things or searching for post-its with important information. Now it is all in one place.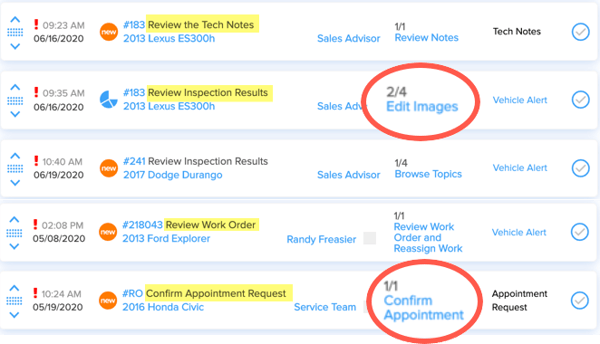 A view of the Task Manager.
"I just think about life before cell phones and how inefficient we were back then and now look at us," Mike said. "So this is just another piece of that, and I think that it will benefit them [SA's], there'll be more money in their pocket at the end of the day. They're still working the same amount of hours; they're just more efficient doing it. It's not me over their shoulder saying, 'Hey, have you done this?' With an actual to-do list in front of them that they can access throughout the day, I think keeps them on task. And, if they do happen to get pulled off of what they're doing, they don't have to start over. They know right where to go back to where they left off."
Then, using KPIs, Mike can monitor all aspects of the shop.
"The KPIs tell the story," Mike said. "Find your breakeven. Find out what it takes to make the shop operational. Set a goal of where you want to go. If your KPIs are driving it to that goal, then you've got some tweaks to make."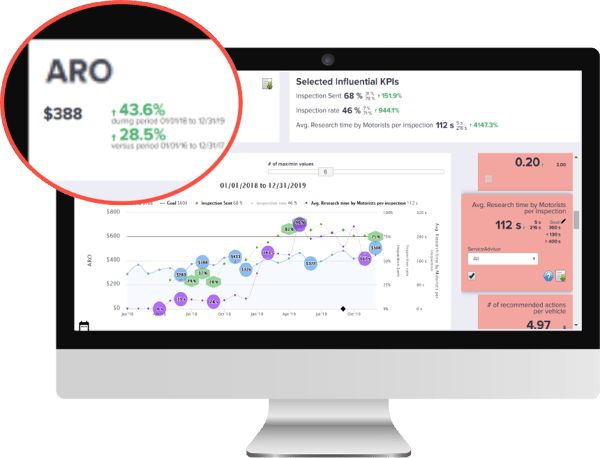 A view of the business control panel (BCP) where you can hone in on your key performance indicators (KPI).
According to David, every area of your shop has a different KPI, which is the telltale sign of its performance.
Eventually, the goal is to make your shop so efficient there is no more they can do in a day, David said. Then the real fun starts.
"When companies and their employees are completing jobs and being really successful at it and productive, morale goes out the roof in the shop," David said. "And when you get a team with a very high morale, their productivity increases to a higher level. It's just an amazing thing when it happens. You think, 'We're as busy as we can be,' but the team is happy, their morale is good, we're getting all this work out, and then you just watch next week. More than that comes in, and the team tackles it, and they take that when they're happy."
Want to hear more from Mike?
How to contact Mike, Affordable Automotive, and Affordable Automotive West: