Aden McDonnell is no stranger to car shops. He grew up in the shop his parents opened and has worked in the industry his entire career. But he recently realized he wasn't going to fulfill his dream of a retirement filled with elk-hunting unless he made some changes to his business.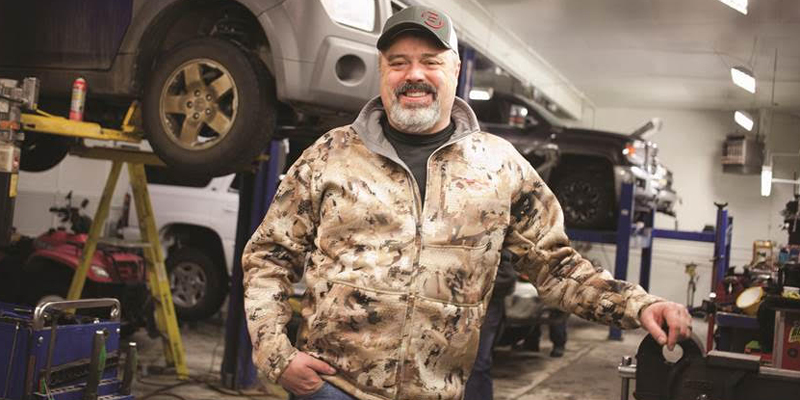 Aden in his shop
"I think the majority of us out there are running on a 30-year-old business model," Aden, owner of McDonnell's ATS in Livingston, Montana, said. "Things are changing, and if you want to get at the front of the pack, [you need] ATI and AutoVitals.
A family legacy
After watching his parents run an auto shop during the 60s, 70s, and 80s, Aden got out of school and started working at a dealership. He was there for 10 or 12 years before an accident caused the car dealership to change owners, and Aden could read the writing on the wall. His dad was also working at the dealership, and when his dad got an offer to get into the transmission business, he took it, and Aden followed a few months later.
"We had a tranny shop," Aden told Tom Dorsey in an episode of The Digital Shop Talk Radio. "People came to us for tranny's, and it was probably 12 years of sitting there beating our head against the wall where we're always busy, but we aren't making money. It was literally, we bought ourselves a job. Retirement was out of the question. You could tell, if I was going to do this the rest of my life, I was going to work here until I died."
A change from his coach
That realization kicked Aden into gear, and he reached out to his coaching company - ATI.
"It wasn't very long in the system that you can see the writing on the wall," he said about ATI. "What they know will make you profitable. It will get you out of the business, but there's a lot of steps you've got to follow."
At first, Aden admittedly dragged his feet.
"For the first five years that I was in ATI, I picked and chose what was easy," he said. "It helped; it had its benefit, but picking and choosing what's easy isn't going to get you where you need to be."
During his 20 Group meetings at ATI, he realized several members of his group were top 20 or even top 10 shops, and so he started paying attention to what they were doing. He soon realized, to align his business with those successful auto shops, he was going to need another tool; AutoVitals.
Aden had heard of AutoVitals for years, but he had continually talked himself out of it thinking, "No, it'll never work up here," or "It's not for our clientele."
Now, he looks back and realizes he was trying to pick an easy route and buck the system, and for anyone else like him, he has some advice.
"Just commit," he said. "There is absolutely no resentment, no second-guessing, doing this. It's night and day. It changed our shop."
Growing pains
Switching your automatic transmission shop to a digital shop after more than a decade can have its challenges, but Aden and his crew have already seen some incredible results.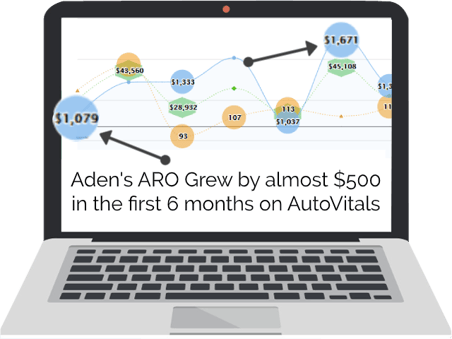 "It's still a work in process, but it wasn't until I went with AutoVitals that it was immediate results," he said. "There's growing pains anytime you tackle something like this and the only thing I can tell people that are thinking about doing this, it's not instant gratification. It takes time."
Instead of thinking it will take weeks, Aden says a more realistic time-frame is six to eight months before things start changing shop-wide. However, the response from customers is immediate.
Prepping motorists for the digital auto shop experience started with the front counter at car drop off. If it was a first-time or current customer, there was a lot of educating that needed to take place. Aden wanted people to learn how the digital shop is different, how it operates, and what the motorist can expect. He also wanted to explain to his current customers why they were changing to a digital shop.
"Man, once we got people on board and buy-in from my employees from front to back, it's been awesome," he said. "I get goosebumps still talking about it."
McDonnell's ATS going from paper to digital, and they were also changing from a more reactive shop - where people would come in after they had an issue - to a proactive shop where people could come in for preventative maintenance and bumper-to-bumper service.
With all of these significant changes happening simultaneously, Aden made the decision not to jump into the deep end of AutoVitals, and instead take a slower approach to ensure his motorists and crew were on board.
"I was more focused on just getting the inspections, getting the information to the customer," Aden said of their start with AutoVitals. "That was kind of the first phase. Once that started working well, then we got more aggressive with the coach meetings and looking at the reports."
Reports that 'blow your mind'
The reports were another huge catalyst that allowed Aden and his shop to improve.
"The reports will blow your mind," he said. "One of the real eye-openers for me was using the pads to punch; you can see how much downtime there is between jobs. You can see how much downtime there is waiting on parts. So you can really start holding everybody accountable front to rear instead of just looking at productivity numbers at the end of the week, or at the end of the month, you can dissect it."
The reports also helped Aden and his staff understand a different way to do business.
He had a bookkeeper bring in a summary report and express concern over parts sales dropping, but when he looked into the data, he realized that while the total number of parts may have dropped, the margin, every month, is climbing.
"The reason why, is because my shop is getting full of the gravy, the maintenance, rather than the engine jobs and the turbos and the injectors," Aden told Tom. "Those types of jobs, true, the ticket might be $3,000, but would you rather have $3,000 at a 15% margin or $2,000 at a 55% margin?"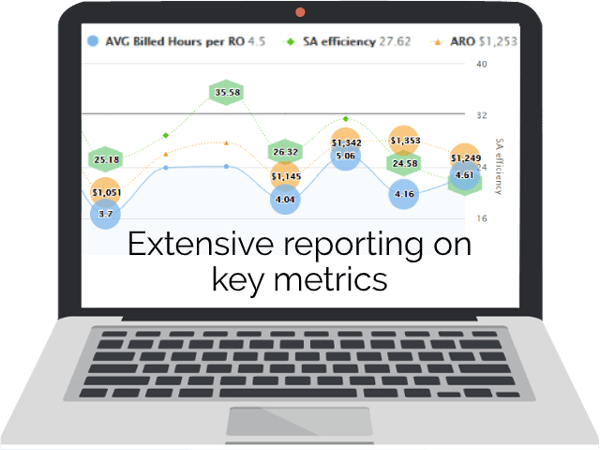 It is those changes which have been a little slower, but now when Aden looks at his lot, he sees more C work than A work.
"On that old business model, what did we all go for? A work – the six-hour, the ten- or the 12- hour jobs," Aden said. "Yeah, the labor margin is good, parts margin is bad."
Now he can find that balance.
"The margin's climbing," he said. "There's actually more profit even though the numbers are less. That, I'm excited about."

Customer reviews and customer demands
The change to a digital auto shop has also brought some unexpected changes to McDonnell's garage.
"We've been here for a long time, but I couldn't get reviews out of [our drivers]," Aden shared. "Now all of a sudden, my phone is going off every other day."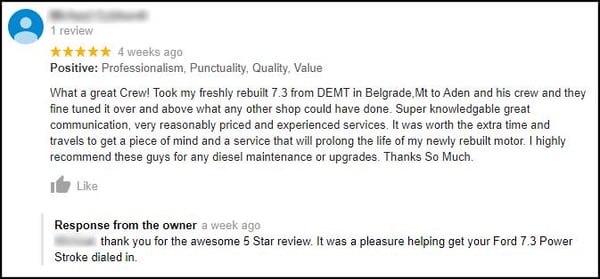 If you go to their Google page, they have more than 80 five-star reviews, a majority of which Aden says have come in the last six months.
"We've changed nothing," he said. "It's just part of the whole system starting to work together. We're starting to hit on all eight cylinders."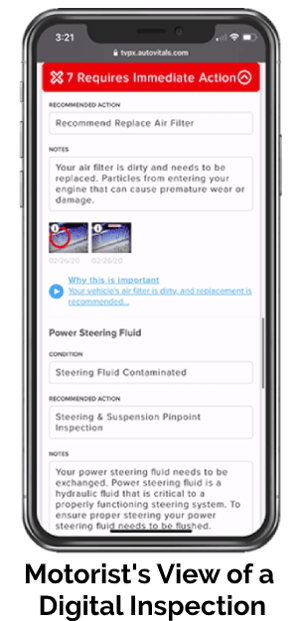 The front counter staff at Aden's have also noticed a difference; vehicle owners are demanding their Digital Vehicle Inspections (DVI).
They leave the store and say, "Now, you're going to get that inspection sent to my phone, right?"
Aden almost cannot believe it.
"Two years ago, I would have never thought in a million years they would be asking for [DVI]," he said. "I still thought we'd be trying to force it down their neck. And now, if it doesn't prompt on their phone, they're asking, 'Well, didn't you do it this time?"
When it comes to the new customers, they are a piece of cake, because McDonnell's ATC is a digital shop now and this is just how they do it.
Finally, Aden has realized the DVI helps him to cross his t's and dot his i's.
Instead of hearing "Well ever since you did this to my car…" the DVI has allowed Aden and his auto techs to talk through those situations with evidence.
Or, when the customer comes in saying, "I can't believe that water pump is leaking," you can show them their previous vehicle inspection when you warned them about it.
When a DVI comes out with a large estimate, instead of dropping a bomb, the digital inspection provides Aden the ability to demonstrate how he is on their side.
"Once they see that inspection with the good, okay, bad, you can then align yourself to, 'We're here for you, not all this needs to be done today, let's start prioritizing what we need to take care of now and start helping you budget for further down the road.'"
Looking towards future goals
The next steps for Aden and his crew are to implement the following phase with AutoVitals, including exit scheduling.
Yet, while Aden is so excited about how his auto shop is running these days, he doesn't want to forget his roots.
"I've got to word this right," he told Tom. "Because our reputation was built on big jobs, custom jobs, transmission repairs, and that, to my root, that's still who I am. But that's not going to get me to retirement."
Instead, he is forging forward with a new take on the shop he has run for nearly two decades.
"I'd say, if there's a goal for me, and it's never going to be a perfect world, but I would seriously take offense to one of my repeat customers driving down the road and losing a serpentine belt or a wheel bearing or a brake pad," he said. "If that happens, we have failed that customer. We have failed that customer. And that's that whole mindset of getting away from a fix-it shop to a preventative shop whose goals are to keep that customer's vehicle on the road."
Watch the full episode here
How to contact Aden and McDonnell's ATS: