COVID has turned 2020 upside down, but for Frank Scandura and Carlos Contreras, it is business as usual thanks to the processes they already had in place with their digital shops.
"In my opinion, COVID has just accelerated a trend which has happened and was inevitable," said Uwe Kleinschmidt, founder of AutoVitals, in a recent episode of The Digital Shop Talk Radio. "We have gotten so used to digital interaction, making buying decisions, organizing our day, and so on and so forth, and now, there was an additional nudge by COVID. So why don't we take it to the next level a little faster than we originally wanted?"
Uwe challenged listeners to use this new time as an opportunity, not a limitation.
Digital inspections make a difference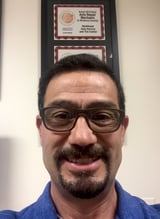 That is precisely what Carlos and the crew at Northtown Auto Service & Tire Center in McHenry, IL, are doing.
Carlos, service director at Northtown, told Frank, the owner of Frank's European Service, and the experts at The Digital Shop® Talk Radio, that COVID has dramatically changed the entire auto industry business.
"I can tell you the one thing that saved us is that back in May of last year, we started with digital inspections. Not knowing that was going to be our saving point during COVID, because what we experienced was that people didn't want to go anywhere, so how do you reach customers? So, thank God we were already in the digital world, and we were able to communicate with customers."

- Carlos Contreras
Communication made all of the difference. In March, they worked towards making their customers feel safe with their cleaning processes and no-touch drop-off. Now, they continue to be flexible as the pandemic changes.
"We don't think twice about 'Oh my God, what do we do?' we just do something," Carlos said. "We are not scared to try whatever we have to do in order to communicate with our customers."
Digital vehicle inspections (DVI) have also made a tremendous impact.
"Our AROs have increased, the car count is down, sales are down a little bit but not much, and the only answer I have for our AROs going up is we have more time for the digital inspections," Carlos said.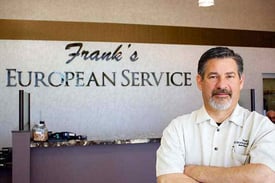 Frank echoed what Carlos was saying. He's been in the business long enough to remember when it was common practice to call your customers to come down to the shop and take a look under the hood with you. That eventually changed to taking photos, then emailing those photos, and now texting updates.
"Now, being a digital shop, I've taken all of those things that we used to do, and actually, I can measure it now," he said. "I can track it. I can give the entire team the tools they need, and Carlos is 100% right; we don't need customers coming down for a show and tell because now we're sending them the information for show and tell. We've been able to capitalize on those processes we've always been doing to keep us going and keep us busy."
COVID isn't an excuse for poor service
Frank hoped everyone listening was paying attention to this episode, because the shops who are putting makeshift tables out front and don't let anyone in, just aren't cutting it, he said.
"That's not what customers want," Frank said. "They want the same service they had before."
He has made changes at his Las Vegas shop to guarantee that service. If customers are afraid to come into the shop, he has set up a way to pick up their cars and drop them back off. For the customers who walk in and don't have a mask, they have some to provide.
"People are adapting, and I think now we've gone deep enough into this where they're like, you know what, I'm over this," Frank said. "My life's got to get on. I need these cars fixed."
He's also noticed that since many people are still earning the same money, but aren't going to dinner or traveling as much as they usually would, they are seeing a lot of old cars being brought in. Additionally, more people are driving now because they don't want to take trains, buses, or planes, so maintenance is still a common need.
Growth mindset leads to innovation
Carlos and Frank both use digital shops, but their mindset is also a considerable part of their success.
"I'm excited because [digital] is the future, and for us, it has been a blessing that we jumped into this kind of thinking," Carlos said. "We'd always been growth-minded here at the shop where nothing is fixed, everything could change tomorrow, and everybody's adaptable. From the new tech all the way to the owners, everybody's willing to do whatever it takes."
Frank is the same way, and when you get Uwe and Frank together, chances are, you are going to hear about some cutting-edge ideas. This episode was no different. The latest innovation? Utilizing a version of Artificial intelligence (AI) on auto repair shop websites to be more available to customers around the clock and cut down on work-day interruptions.
Keeping with the idea that people are used to digital interaction for most things nowadays, Uwe and Frank want to continue upping the digital shop game. They hope to do that with AI built into shop websites to answer basic customer questions even in the middle of the night.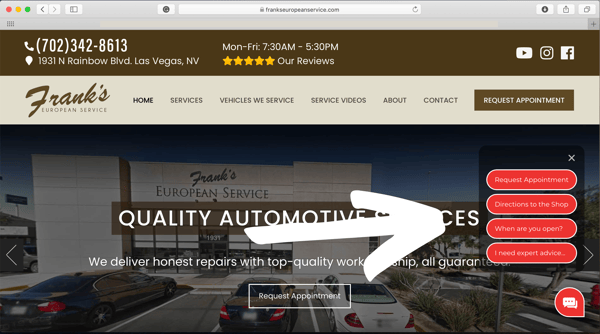 Frank's website is testing out providing prompts for customers to select from so they can receive information anytime they need.
"It all comes down to the shop's website user experience," Uwe said. "I'm predicting the ability to go to the shop's website anytime I want as a customer, so there is somebody on the other end. I can look up cost specific things I need to know to make a decision, look at past inspection results, whatever it takes for me to make a decision and then maybe I even get an estimate."
Tom and Uwe think maybe this feature goes even further. Instead of your SA being interrupted all day having to answer chats with people asking for parts pricing, possibly there could be a couple of levels of basic answers motorists would have to go through before reaching the SA.
The first level would be detection, specifically the detection of current customers. This would allow motorists to view their recommendations without having to talk to anyone at the shop. The second would be to have some basic answers lined up for frequently asked questions.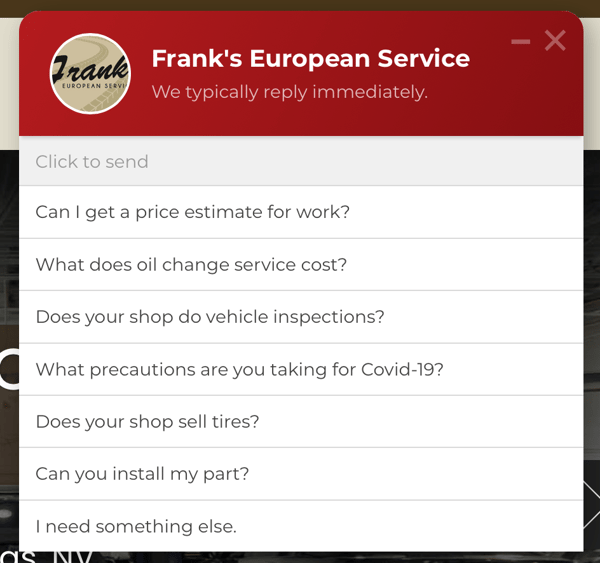 Examples of some of the questions that can be addressed with AI.
"So, for example, if somebody says, 'Can you give me an estimate on x?' Frank has already defined what a typical answer to somebody is who just wants an estimate on chat," Uwe said. "It's like an estimate on the phone, so there are two lines of defense you can basically put in place…and still provide value to the motorist before even the service advisor gets involved as a human."
The website would be directly linked to the SmartFlow system, and you would get an alert once the person has gone through those first two lines of defense and needs to speak with someone.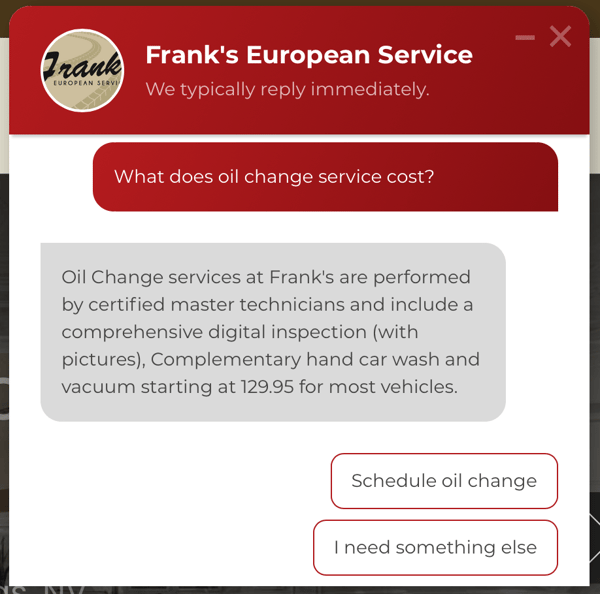 If I selected "What does oil change service cost?" in the above window, this is the response I would receive.
Frank's European Service is already testing a version of this out.
"I am a customer when I'm not at work, right?" Frank said. "We all are. So what happens when I'm looking for something, and when I do my research if there's no way for me to interact with a company online at my convenience to get the information I am looking for, I'm out. That's it. And if I'm doing it, my customers are doing it. I think that it's time for us to get up to speed, and that's what I love about this idea to communicate with our customers the information they want, that they need when they want it. I'm open from 7:30 – 5:30. It's not uncommon for me to get appointment requests that are coming through at 1, 2, 3 in the morning. Now, these could be people just getting off work, or it could be, sometimes I got a sleepless night, and I'm just sending off emails and catching up on stuff. Whatever it is they need, the information when they need it. So this is absolutely the perfect next step for where we're at."
Watch the full episode here:
How to contact Frank and Frank's European Service:
How to contact Carlos and Northtown Auto Service and Tire Center: