The digital shop is more than just a tool, it's an entire mindset and process, and during the uncertain times of COVID-19, it is the catalyst for a thriving shop.
In a recent episode of The Digital Shop Talk Radio host Tom Dorsey, and AutoVitals Founder Uwe Kleinschmidt talked with two digital shop owners, Roy Foster and Ryan Flattum. They discussed how Digital Vehicle Inspections (DVI) and other best-practices have kept their businesses soaring when the automotive industry has seen drastic decreases in car counts and revenues.
Roy, owner of Roy Foster's Automotive in Reno, Nev., actually saw an eight percent increase in revenue in March, something he is grateful for considering what he is hearing about the industry around him.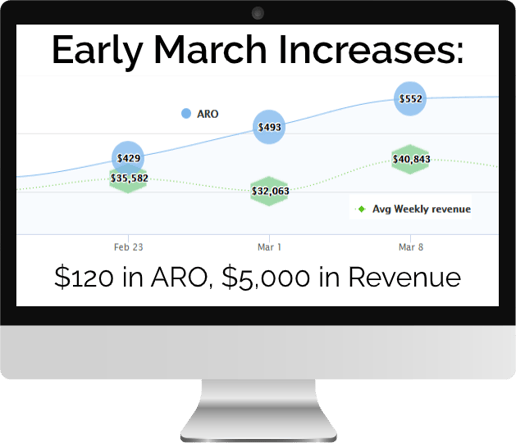 Roy's shop saw big increases in revenue just as the world was starting to slow down.
"So, car count is down, and fortunately, we had all these best practices in place," he said. "I'm feeling really fortunate. Having the tablets, just having the process down already, and seeing my guys just maximize all the opportunities coming through the shop. Obviously, they're spending a little more time with each vehicle because I'm seeing the average number of recommendations per RO going up. The ARO's way up. I'd like to see the revenue a little higher, but considering where the car count is, I'm really happy. You know, we're doing great."
Ryan, owner of two RMF Auto Service locations in Western Wisc., is having a similar experience during this downturn.
"You know, the day they shut the country down, our phone quit ringing for the most part, so we did a couple of unique marketing things to try and get some cars in the parking lot," he told Roy, Tom, and Uwe. "Then, once we got the cars in the parking lot, obviously the inspections were key, and they have been. Our ARO is up massively, our car count is still down, but our ARO is up. Extensively."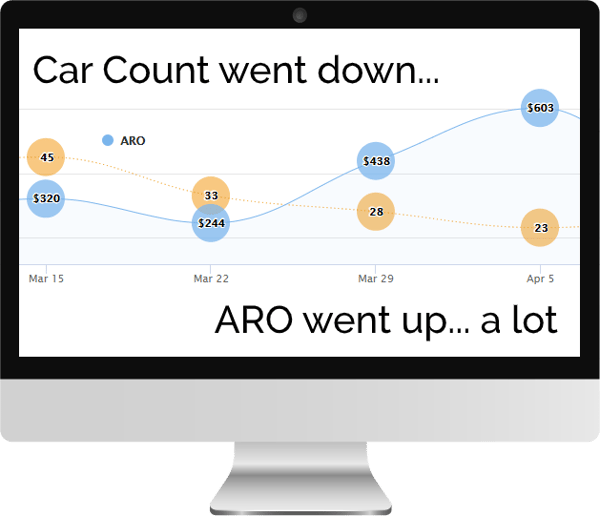 When RMF's car count tumbled, they buckled down and made an almost $300 gain in ARO
What is their secret?
The secret sauce to their digital shop recipe for success can be boiled down to a few ingredients.
Meetings, an eight-letter word everyone loves to hate. Yet both Ryan and Roy have credited frequent team meetings with keeping their shops on track to meet their goals.
"I was never a big fan of meetings, I kind of thought they were counterproductive a little bit because the guys aren't actually turning a wrench," Ryan said.
He soon realized the error in his thinking.
"Without a weekly meeting, I don't know that you can sustain proper inspections. I mean, we have a half-hour to an hour weekly meeting per shop each week, and the guys enjoy it, and it changes our inspections."
On the morning of his Digital Shop Talk appearance, he met with his staff for a quick meeting. Something as small as a few minutes allows Ryan to change the direction of his shop.
"Let's just stop for a minute here and talk about this and the impact it has if we don't continue to do it right," he told his team.
Roy entirely agrees and has recently upped his meetings to a daily event.
"The meetings are huge, and we talk about the KPIs almost every time in our meetings," Roy shared. "It's not because of lack of imagination; it's because of the repetition of learning."
He has found the redundancy allows his guys to "get it," which starts the domino effect. When it clicks, then the shop begins to see results, and those results lead to buy-in.
According to Ryan, "if you can just get one tech to buy-in and you can get some success stories and start sharing success stories with either that tech or your service advisor," this makes all the difference.
Buy-in is essential, especially in times like these.
"They're hearing about dealerships around town where they're down to two techs and one service writer in these huge facilities," Roy said about his techs. "They're hearing about their friends not working, and here they are just business as usual pretty much."
2. Motorist Research Time
One of the KPI's Roy and Ryan look at during their meetings is motorist research time (MRT). This screen allows the auto repair shop to see how long vehicle owners have spent looking at their digital vehicle reports.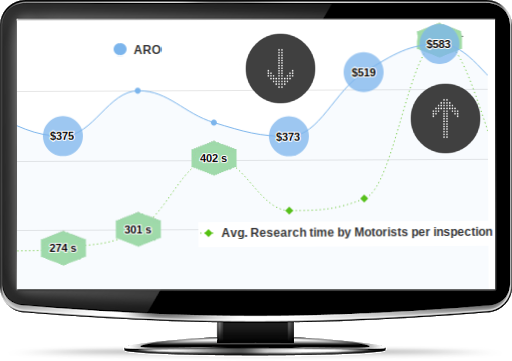 There is a direct positive correlation between the average time the motorist looks at their inspection report and ARO.
Bill Connor, an AutoVitals trainer, works with hundreds of shops across the country to improve, and when he is looking at an auto repair shop's performance, he starts by looking at the MRT.
"If [the MRT] is up at a level in a good spot, I know a whole bunch of other things have gone right," Bill told The Digital Shop Talk Radio panel. "If I look at that KPI and it's low, then what I can do is I can start looking for the edit rate in other things that actually feed into that and dissect it from there."
MRT can be a bit hard for newer digital shops to wrap their head around, but Bill has found a way to explain it that helps.
He asks the auto repair techs and service advisors (SA) one question; how much time they would spend explaining five recommendations to a customer in the shop? Across the board, the responses were between one and two minutes per recommendation.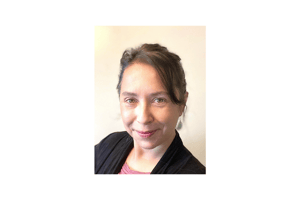 "I said, 'Well, if you want the same type of approvals in the digital world, then why is it acceptable for you to have a motorist research time of 60, 70, 80, 90 seconds?'" he said.
That's when a lightbulb comes on.
"If you want to replace a process that's a tried and true, a process that works, which is show and tell at the site of the car with digital tools, then that's the kind of mindset you have to have," Bill said.
Ryan is using the MRT to evaluate his SAs and auto techs.
"You know, at the end of the day, it's always average motorist research time," he said. "I think that is the main goal because that correlates to increased ARO, right?"
MRT best practices from an expert
Changing your MRT starts with a properly configured inspection sheet

Is it educational for the motorist?
Is it automated for the technician?
Are your techs and SAs working together to make great content?
Is the service writer seeing what the tech recommends, editing it, estimating it, and sending it to the customer?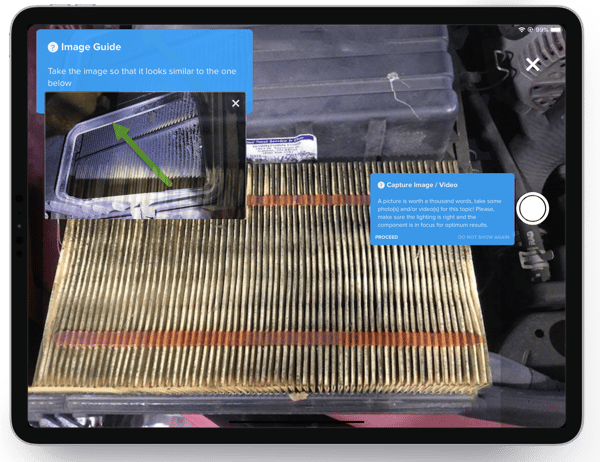 Having the right tools to keep your SAs and techs on the same page is a crucial part of crafting meaningful inspections.
Drop-off matters

Are you setting expectations during the drop-off conversation about the DVI? Do the vehicle owners know what happens during the inspection, and once it is complete?
Does your motorist know to call you after they have looked at the inspection so you can go over it?
Have you set your customer up for success by educating them so they are ready to buy?
How to drive auto technician performance

What percentage of inspections are they doing?
How many recommendations are they making?
What are the KPIs for average hours per repair order? Then, go one step further and look at service advisor efficiency and look at the tech's hours per day on average over a specific timeframe.
Quick wins


Define exactly what your team should do in individual events, what pictures should look like, how many photos should be captured, how the service writer should mark things and estimate, etc.
Controlling the messages the customer is going to get so they don't have to go anywhere else. This also removes the pressure from the customer.
3. Transparency
The next ingredient for Ryan and Roy has been transparency - for customers and their crew.
"I've been really transparent in my meetings, even the weekly revenue I'm sharing with these guys," Roy shared on The Digital Shop Talk Radio. "I'm telling them what our break-even is and why it's so high and why we have to get these kinds of numbers and where the money goes."
He has found that sharing information solves several problems. Instead of a tech thinking Roy's getting filthy rich while he is only making $40, the tech and crew can understand the business. He thinks this improves the shop culture.
"Once you start to educate, 'Hey, this money is going somewhere,' and then you get in a difficult time like now. I came out and told my guys, 'Our business is sound, it's solid, we're solvent, you guys are going to keep getting paid, you don't have to worry. You keep doing the inspections and meeting my expectations, and you'll keep getting that regular paycheck, and you won't even notice this.' You know, now they're understanding, we have reserves built up because we have these good practices and their paychecks are coming in and usual, so I think it's been really effective."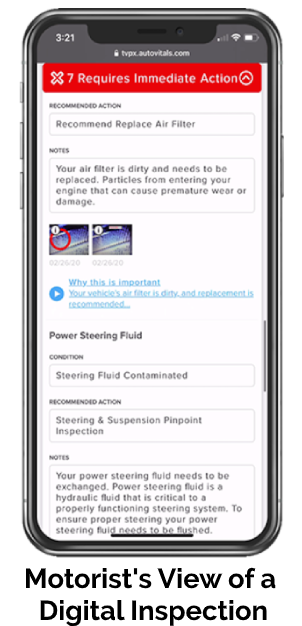 When it comes to supplying transparency to motorists, you don't have to look much further than the DVI.
By using the information the auto technician found during the inspection, passing it along to the SA who ultimately gets it to the customer, the customer is essentially able to look over your shoulder digitally.
"I mean, I think what we're trying to do is just have the customer right next to me as we're doing this inspection, but we're doing it virtually," Ryan said. "You're building trust."
Bill explained the DVI as a joint effort by the crew to explain what a part is, why it needs to be serviced, and why it needs to be bought and replaced today.
"If they have them elements on it, that's what we're looking for, and that's what is giving the transparency to the customer," he said.
Transparency has also helped Roy in his weekly tech meetings.
He puts up the multi-shop view and looks at the KPIs across the board, and he points out winners and losers, not to shame anyone, but to keep his crew pushing forward.
"The techs will chime in," Roy said of this part of the meeting. "'Hey, if you try this, or do that, that's really helped me.' It'll just start to build that culture and consistency."
4. The intangibles: trust, culture, consistency, and communication
The final elements to auto repair shop success during COVID have been the byproducts of Ryan and Roy using AutoVitals and DVI.
"For me, I guess I started the business by myself," Ryan shared in episode 64. "I started from brand new, from scratch, and I think the level of trust I gained with the customer was the reason I became successful. But, when you start adding employees, to try and get them to do the same job or get the customer to trust them the same level as they trust you is the hardest thing I've ever had to tackle. It's really, really tough, and this tool, I think, it makes it a lot easier. Like we're just being totally transparent. So, I think the trust and the communication with the customer, as long as you're doing it right, is, I never would have believed that this tool did that. I just thought it was a tool to help us sell more stuff, right? It totally transforms the way you communicate and the trust factor."
Roy has found in addition to communication and trust; consistency is king for his shop.
"We always talk about consistency and meeting the customer's expectation," he said. "We set the expectation at the counter with the process. Then we're always constantly talking to the techs about meeting those expectations and making sure that experience is what we want it to be because we'll never meet their expectations if we don't know what it is. But, if we set the expectation, we can meet it every time."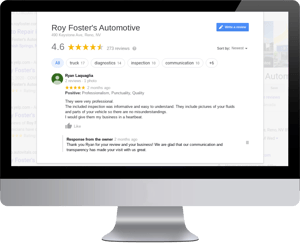 These results aren't the exception to the rule. Bill has seen hundreds of shops benefit from using these few steps.
"One of the things that's really kind of interesting is the digital shop is not a tool," Bill told The Digital Shop Talk Radio and its listeners. "It's a mindset or process, and what's wonderful about it is that like any program, in order for it to survive, thrive, and take off on its own, it has to have something in it for everybody. So, here we have something for the technician, the service advisor, the shop owner, and, more importantly, the customer. So it's a process that's well rounded, well thought out, easily duplicatable, as long as you don't fight the process of integrating and onboarding."
Watch the full episode here
Want to hear more from Ryan?
Learn how Ryan has utilized his crew to create a successful shop in Episode 43, "It takes a village."
How to contact Ryan and RMF Auto Service:
Want to hear more from Roy?
Learn how to "Set and Achieve Ambitious Goals Using the Digital Shop" in Episode 49
Avoid "The 5 Biggest Marketing Mistakes Shops Make," in episode 15
How to contact Roy and Roy Foster's Automotive: