Sara Savio is an old pro when it comes to AutoVitals. So it was only fitting that she joined host Tom Dorsey and AutoVitals founder Uwe Kleinschmidt on a recent episode of The Digital Shop® Talk Radio to play "Who Wants to Be A Digital Shop Millionaire - BCP Edition."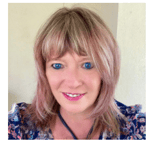 Sara, who works at Made in America - Made in Japan, in Sacramento, California, was excited to report that even during the tumultuous year of 2020, her shop was "kicking butt."
"2020 ended up actually a fantastic year for us," she told Tom and Uwe. "I was able to come in in May and use my tools and experience to really just increase our numbers. We have had a huge increase in first-time customers, and I think with our ARO average hovering around $1,000, the benefits of The Digital Shop® have really allowed us to achieve what we did in 2020, and we're looking forward to kicking butt again in 2021."
One aspect of that success can surely be tied to the business control panel (BCP), where Sara can monitor her shop's success.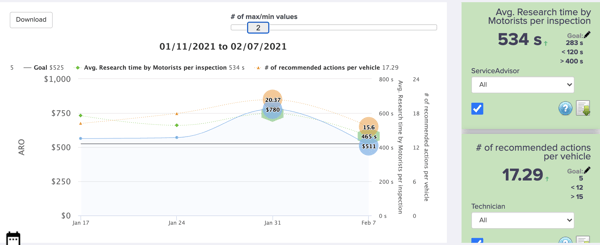 A view of the BCP
"[The BCP] is where you track it," Tom said. "That's how you know that the recipe is working, right in that business control panel."
The game
While Sara spent much of the episode answering questions about the BCP, a few questions triggered some interesting conversations.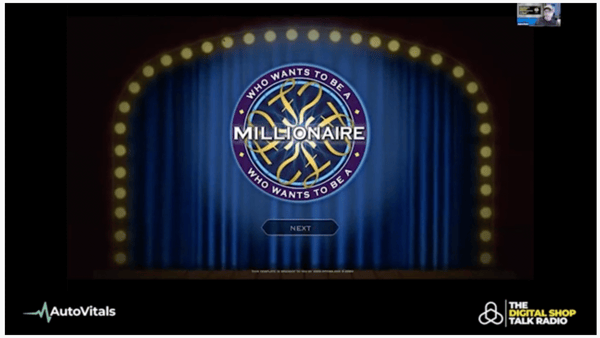 One debate came after the question: Why is the BCP better than POS reports?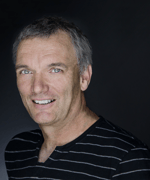 Uwe shared some background: "We talked with a lot of shop owners and looked at point of sale reports, and the reason the BCP was basically born was because, as with everything, if you don't know why things happen, it's really hard to take the next action."
He gave the example of an auto repair shop's ARO dropping and how a POS report will not tell you why that happened.
"We thought, finding the 'Why' is a really big deal and a big challenge," Uwe said.
With the BCP, shops can look at up to five influential KPIs to see what caused your ARO to drop. Perhaps your inspection rate dropped, and then everything else followed.
"Those are the easy cases," Uwe said. "You can just look at the graph and see, 'Oh, the inspection rate dropped, everything else followed.' That's an awesome way of determining why it happened. For those simple cases where the root cause is so easily identifiable, the business control panel is just a blessing. It takes you 10 seconds to see what's going on."
Sara added that when looking at the trend graph where you can see the three primary KPIs (ARO, Car Count, and Retention Rate) plus up to three influential KPIs, she appreciates that it's just the facts.
"It's just a snapshot of information," she said. "It's real data, there's not much to dispute there, and it tells you the input that's coming in and tells you what you may need to fix coming out."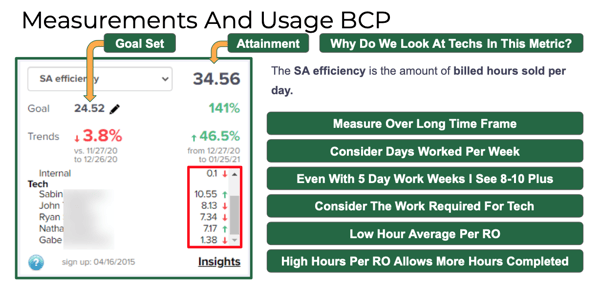 Another question that sparked a discussion was: "Where do you set your goal for Motorist Research Time (MRT)?" Sara knew to find that in the Insights Tab and then click on the pencil in the MRT box. But more than just knowing the steps on how to set the goal, she shared how important she thinks MRT is.
"I like to review this on a weekly basis," she said about MRT. "Then, in a weekly tech meeting, we go over what we're seeing, how many recommendations are made, and review and take that into the next week."
Uwe agreed with Sara's approach but wanted to go back even a step further for those shops that maybe haven't implemented this yet.
"I think before you even consider using the BCP for goal setting, the best start is to create a culture around goal setting," Uwe said.
If you don't do this first, it is much easier for people to push goals off until next week or not follow the goal.
"Whereas if you have a weekly goal and you think about this every day, 'How do I reach this?' it's a completely different approach."
Does MRT = Customer retention?
Sara doesn't only talk-the-talk, she walks the walk with her average MRT an outstanding 809 seconds. She says the key to her success is building value in educating her customers at drop-off, communicating expectations, and creating transparency.
"Just really making them understand from the beginning what the process is," Sara said.
While she couldn't tell Uwe and Tom if customers were coming back more times a year, since she is new to this location, she does believe that the retention rate at Made in America - Made in Japan is high.
"Our customers absolutely love our inspections, and they're referring their friends because of the inspections and the transparency," she shared. "For me, personally, from the time I started using AutoVitals, it has been about how do I share this experience and what it brings to my customer? Why are they going to come to me? Why do [motorists] not need to go anywhere else?"
That mindset has driven her to give the same spiel to every person walking in the door, and with great results.
Watch the full episode here:
How to contact Sara and Made in America - Made in Japan: