In the competitive automotive aftermarket industry, shop owners constantly seek ways to streamline operations, increase profitability, and enhance customer satisfaction. While a shop management system or point of sale lays the foundation for effective business operations, integrating AutoVitals into your shop systems and processes will drive your shop to new heights of success. This blog post will explain the importance of integrating AutoVitals solution into your current shop processes and management system to increase revenue and efficiency.
The Importance of Adding Digital Inspections to Your Process
Integrating AutoVitals with your shop management system revolutionizes how your shop operates and will increase your shop's profitability and efficiency. AutoVitals' digital vehicle inspections (DVI) empower shops to increase repair order value by 20% or more. By providing customers with detailed, visual inspection results with educational notes and narrated videos, DVI enables service advisors to communicate repair needs to customers effectively. Seeing is believing. Thus, digital vehicle inspections increase customer trust and result in more job approvals than traditional paper inspections sold over the phone.
Today, many shop management systems are beginning to include limited digital vehicle inspection functionality. However, AutoVitals' digital inspections have been improved and refined for over ten years and have a proven track record of generating more revenue for your repair shop. Typically, shops will see an additional 20% increase in ARO and an additional $3,000 to $5,000 a week in revenue after implementing our digital vehicle inspections, even if they were already using a digital inspection tool through their shop management system. These results result from the amount of educational material included in AutoVitals inspections, their ease of use for technicians, and ongoing product and best practices support from the AutoVitals team.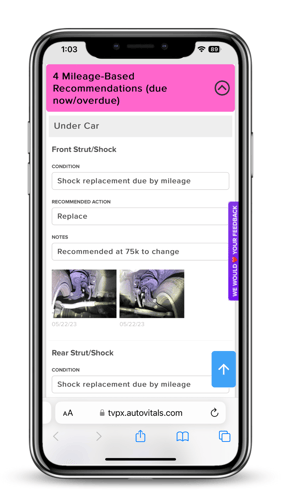 Why Your Shop Needs Workflow Automation
Workflow automation, another cornerstone feature of AutoVitals, addresses a critical challenge many shops face: managing an overwhelming workload. Many shops are scheduled two weeks or more out and are struggling to manage significant demands for service. AutoVitals workflow automation helps alleviate this concern by automating customer communication and giving shop owners and managers a bird's eye view of their shop operation so they can remove bottlenecks before they happen. AutoVitals' workflow automation is proven to increase shop capacity by 30% or more. Workflow automation enables your business to handle a higher volume of service without compromising on quality or efficiency.
The Value of a Fully Integrated CRM
Typically, shop management systems do not include a customer retention management (CRM) tool. Because of this, most CRMs need to be purchased as an add-on and will only partially integrate with your shop's inspection process. This is where AutoVitals' CRM excels. AutoVitals' CRM integrates with our digital inspections, workflow automation, and your shop management system. AutoVitals service reminders include previously declined or deferred service actions and all the notes and images from previous inspection results. AutoVitals CRM fosters customer loyalty and encourages repeat business. Through targeted communication, reminders, and personalized service recommendations, AutoVitals helps you build lasting relationships with your clients. AutoVitals CRM ensures a steady business flow and helps stabilize your revenue streams.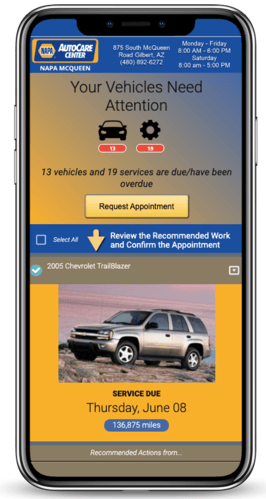 AutoVitals Website Management
Lastly, most shop management systems or point of sales do not include any web presence support. With most customer research happening online, your shop must have an online presence to attract new clients. A well-built website will also ease appointment booking for new and existing clients. Alongside our digital vehicle inspections, workflow automation, and CRM tools, AutoVitals is proud to offer high-performing, customizable websites proven to outrank the competition. In addition to websites, AutoVitals also offers business listening management, review and reputation management, and digital marketing services so you can take full control of your shop's web presence.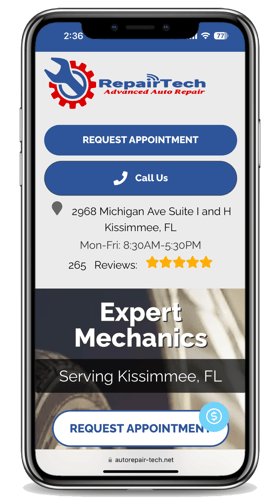 Conclusion
A shop management system is crucial for running the essential functions of your shop, such as car intake, estimate writing, part ordering, and labor management. However, more than a shop management system will be required to dramatically increase the profitability and efficiency of your shop operation. Integrating AutoVitals with your shop management system will take your shop to the next level. AutoVitals offers a comprehensive solution that addresses the most pressing challenges auto repair shops face today. From increasing capacity and profitability to improving customer loyalty and expanding your client base, AutoVitals is the key to unlocking the full potential of your auto repair business.
Embrace the future of auto repair with AutoVitals and witness a remarkable change in how your shop operates, thrives, and grows in an increasingly competitive market.
List of Shop Management Systems AutoVitals Integrates With
Tekmetric*
Mitchell1*
NAPA Tracs (Enterprise & Legacy)*
ALLDATA Shop Manager (Desktop)
AutoFluent
Costar
MaxxTraxx Pro
Mitchell Manager Enterprise Pro
M.Key
Protractor
RepairWriter (version 4-4.5)
RO Writer
Shop-Ware
StockTrac
VAST
WinWorks
YES (version 3)
*our most common, highest-performing shop management integrations
Schedule a demo to see how AutoVitals can work alongside your shop management system.