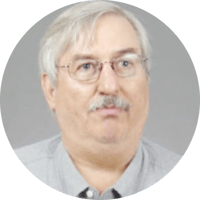 Bill Connor knows the automotive industry. For nearly 40 years he has worked in auto repair shops, and most recently, he has spent more than five years guiding repair shops as they transition from paper to digital operations.
As the Senior Digital Shop Analyst and Trainer at AutoVitals, he has heard every question you could imagine about the leap to The Digital ShopⓇ and he was kind enough to share a few of the most common questions he is asked, here.
These are the top five most commonly asked questions from new digital shops and Bill's answers.
1. Do I really need to use two monitors?
The best practice is to use two monitors. One screen should have your point of sale (POS) system on it and the other screen should have today's vehicle page (TVP) on it with the technician view, workflow view, and upcoming appointments open.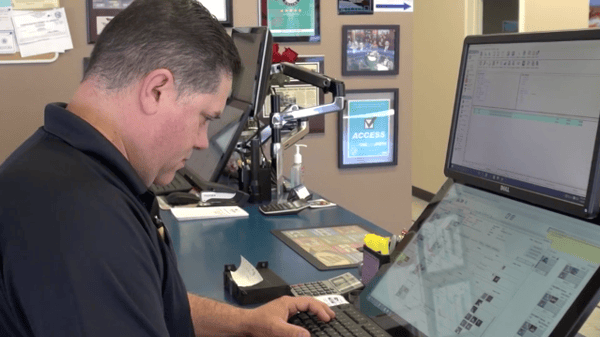 An example of an AutoVitals shop using two screens.
Two monitors let you have full visibility and is a great way to understand and manage your labor inventory. After you use two monitors you will wonder what took you so long to try it.
2. No more plastic sleeves now, what do I do with the keys?
The best thing to use is a valet board that has a series of 10 hooks across and 10 down. Hang the keys on the space marked with the last two digits of the motorist's repair order number. This way, there's never any questions about where the keys are. They're either with their vehicle or hanging on the valet board. Some of the valet boards come with tags on it so you can attach the keys or some shops prefer to use the paper tags and a permanent marker to label the keys.
3. What is the fastest way to get my staff to adopt this new process?
Start using guided mode from the beginning. With TVP.X, the repair shop should use the inspection sheet that has fully guided information in it. Additionally, the technician's tablet and the service advisor terminals should always be set to the guided mode. This is designed to provide great quality inspections with the least amount of time and effort. The inspection sheet is set up to use best practices for higher customer approvals through education while building muscle memory for all.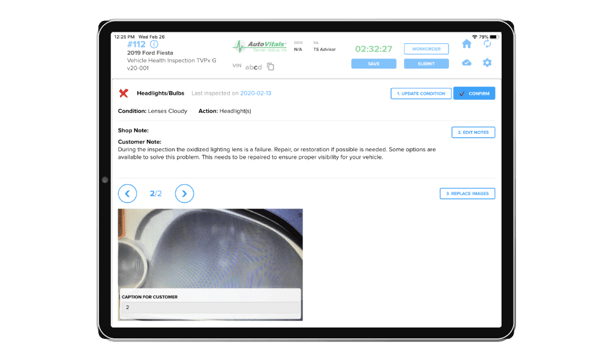 A view of TVP.X guided mode.
4. What should my staff do next?
That is a great question. The answer should come directly from your AutoVitals trainer. They've done these hundreds of times with all different shop types and sizes and are experts at what they do. Your trainer will be working with you using your business control panel (BCP) data, identifying a few things that you should be working on, and explaining how they're going to measure your progress. They will help you determine a due date for completion. Follow their lead, and you'll get there quickly.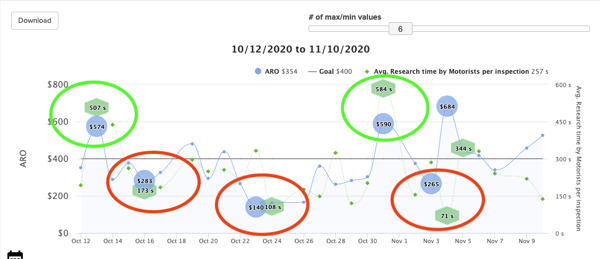 One example of data gathered with the BCP. This is showing how motorist research time (MRT) correlates with average repair order (ARO).
5. Where can I learn from others that have been through this change before?
The Digital ShopⓇ Talk Radio which has a new episode every Wednesday at 10amPT/1pmET is a great place to learn from other people just like you.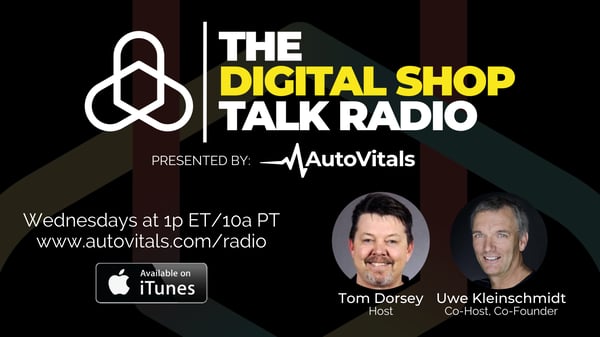 Each week, host Tom Dorsey is joined by shop owners, auto technicians, and service advisors, who have successfully transitioned to a digital shop and are excelling. It is a great resource to learn from people who have gone through the exact things you're going through now. They share their successes and the challenges they had along the way. All episodes can be found here so you can go through and listen to them any time you'd like.
Do you have more questions for Bill or AutoVitals? Contact us here.