"Workflow is the spine of the automotive industry," says Fred Gestwicki, owner of Fix-it with Fred, in Canton, Ohio. It doesn't matter if you have a Shop-Mahal with 100 employees or a single man auto shop owner/operator, everyone has a workflow.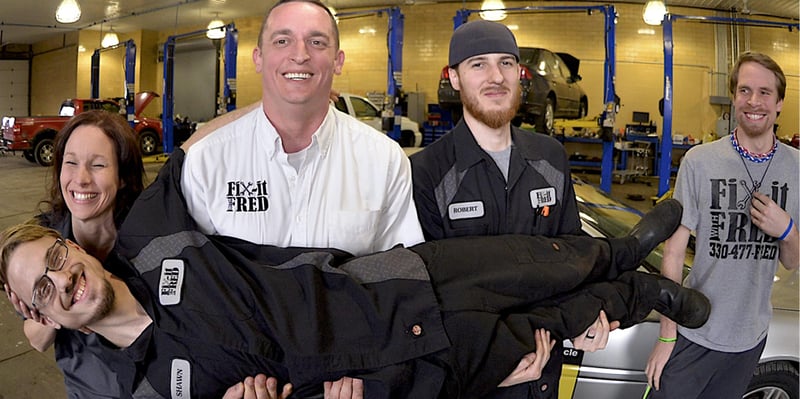 The Fix-it with Fred crew
If you boil it down to its simplest parts, a workflow is three steps:
You have a customer with a concern.
The auto shop addresses the concern.
The vehicle goes back to the motorist in the condition they paid to receive it.
Those steps can be as complicated or as easy as you need them to be, Fred told Tom in episode 28 of The Digital Shop Talk Radio, but they ultimately allow your crew and your customers peace of mind.
Establishing workflow as a priority
"Just, in my opinion, the summary of this whole talk Tom, is that your workflow steps should make it super clear to everyone - the technician, the advisor, the customer - what's going on with the car. When it's going to happen, what order it's going to be in. No one's going to wonder what's next, and wonder what they're supposed to do to help that car progress," Fred said. "That's all you're doing is giving everybody job duties, and you're describing a process to them, you know?"
At Fix-it with Fred, determining the workflow started back before they were a digital shop when the RO passed from hand to hand.
"We watched and saw how the techs work through the cars," Fred told Tom, describing how they initially set up their workflow.
When they transitioned to a digital shop and went paperless, it wasn't as easy to see where the crew was in the process because they were no longer handing around an RO. But, they soon worked out how to manage a paperless workflow.
"What we found is when the responsibility of the car to move on changes, that's when the workflow step changes," Fred said.
At Fix-it with Fred, they have figured out workflow management that works for them. It typically looks like this:
Dispatch – Workflow starts here, which just means the car has arrived at the auto repair shop. The service advisor (SA) determines which auto tech will be working on the car and then assigns the tech that car and changes the status.
Waiting on Inspection – The tech has been assigned, and the SA is no longer in control. Now, the responsibility is on the auto technician.
Tech – Now it is time for the tech to service the car. Once they have finished, they send the vehicle back to the SA.
SA – The SA is then responsible for estimating work and will send the estimate to the customer.
Waiting on approval – This workflow step falls on the shoulders of the motorist. Once they have decided what work they want to complete, the workflow goes back to the tech.
Waiting on work finish – Once the tech has completed the approved work, the car will transfer back to the SA.
Waiting on pick up – The SA will advance the finished car to the final stage where the customer comes to pick up their vehicle.
These steps work for Fred and his crew, but he was very adamant when talking with Tom, that what works for him, isn't going to work for you.
"If I wanted to share my screen and show you my workflow steps, I would be saying, 'Do not copy this,'" he said. "This is not going to work in your shop. You have to find out what works for you and all that starts with measuring what you're currently doing. What pains are you trying to solve? And just build your workflow around that, you know?"
Creating an efficient workflow with leadership
The crew at Fix-it with Fred has a seamless workflow, but it wasn't something that happened overnight. It took some tweaking to get things working smoothly, and then it took some trust and leadership from Fred.
"When you build a shop, it's your baby, and you don't trust anyone to take care of it, because no one could take care of it as good as you did because you built it," Fred told Tom.
He realized the way he improved as a technician and a manager is by making mistakes and learning from them.
"If I stay on top of my people, they never get to experience that," he said. "I am inhibiting their ability to grow, so a big belief of ours is that if we fail, we have to make sure that failure is the best lesson possible."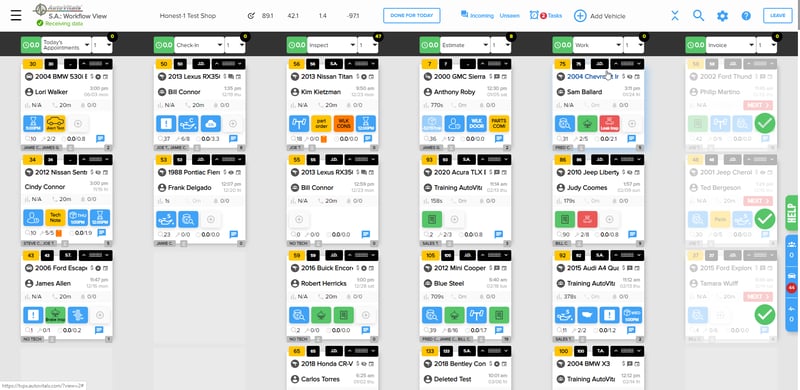 Another look at what the SA sees when managing workflow in Smartflow.X by AutoVitals
Fred used that idea to start taking a day or two each week away from the shop, working from home, to help his crew grow. The first day he left the shop, was, according to his staff, "the best day ever."
"I'm pretty confident I'm not terrible to work for because everyone's happy and my turnover's low. I'm pretty confident that we have a good system and team environment. But, there's something about your title, when you're the owner, no matter how nice you are, you're still the owner, and you're still in the room. When you leave, those birds can open their wings all the way. They can fly much higher, and they can crash much harder and feel that pain more," Fred said.
All of this goes back to workflow management. It allows your technicians, advisors, and customers to get their needs met, and everyone is happy.
"Having defined workflow steps that fit your shop's culture and your shop's work ethic helps everything be better," Fred said. "No one's ever wondering what they're supposed to do. It makes a clear path of how you get to success."
One other important factor of this more hands-off leadership style Fred has taken is being okay with his crew changing or tweaking the workflow. Not only does it create more staff buy-in, but if they tweak it and it doesn't work, they also have to find a solution to the problem they created.
The best-case scenario is to have your techs and SA say, "Hey, we changed this because we found out this workflow step wasn't working for us," and they have already implemented it, and it is helping the auto shop, Fred said.
Three reasons why workflow matters
Efficient workflow automation can save you time and money. However, Fred believes there are three other essential things it also does:
Provide consistency to your staff and motorists
Remove wonder
Manage expectations.
As an AutoVitals digital shop, Fix-it with Fred uses the AutoVitals' SmartFlow.X (SF.X) workflow management software to achieve all of these things. In addition to providing digital workflow management, and allowing SA's to dispatch technicians without stepping away from the front service counter, SF.X also keeps the customer updated and informed with text notifications along the way.
Instead of techs thinking, "I wonder what's going on with this car," or "I wonder if the parts are here yet," or "I wonder what I am supposed to work on next," SF.X gets rid of that wonder with information. The same goes for the customers.
"The purpose of the workflow notifications is to remove that wonder," Fred said about the text messages sent to motorists.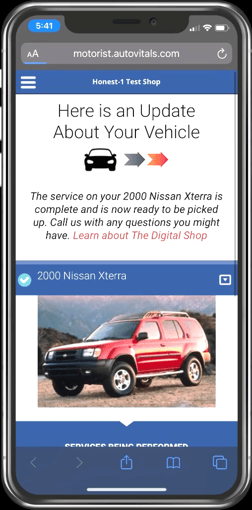 Wonder is an obvious step to any new situation, and those notifications from the workflow management system eliminate it.
When customers are prepped at vehicle drop off about how the text notifications will work, they now have managed expectations and know the first message will tell them when the tech has started work on their car.
"We're going to send you some more texts to keep you updated," Fred tells his customers when they come in for their first time. "So, anytime something changes, go to that text. Even if you click the wrong one, it'll still tell you where your car is progressing through our workflow. Now, you've removed all wonder, ever. If they wonder, they don't need to call you. They don't need to guess; they can just click."
Fred said regular customers are so used to the text alerts; they even know which ones they want to click on.
"They know the first one just means we started, so they don't click it, they already know what it is," he said. "They know the second one is the inspection. They know the third one is a review of what we did. So, they click the second and third ones a lot. And they know the last one is done."
The final improvement that digital workflow automation produces is consistency.
"Building that consistency for the shop team and for the customer is golden," Fred told Tom. "It really, really helps with everyone's experience, and in reality, you can't just make your customers happy. You have to make your employees happy and your customers happy, and their cars happy in order for any of this to keep going on."
Without consistency, people don't come back.
"How are you going to sell somebody anything if they don't get that same exact experience every time," Fred said. "Consistency builds trust, trust build sales, sales equals money, and that's where growth comes in."
Watch the full episode here
Want to hear more from Fred?
Fred joined Tom to talk Savvy Staffing Techniques in Episode 46

of The

Digital Shop

Talk Radio

A panel of guests including Fred previewed the 2020

Digital Shop

Conference

here
Learn how to "Overcome Price Shoppers," in Episode 35

when Fred is joined by his wife, Jessica

Building trust with customer reviews was the topic of discussion in

episode 20 when Fred joined a panel of experts on The Digital Shop Talk Radio

How to contact Fred and Fix it with Fred: