"The name of this episode is what, consistent processes? We were just talking earlier, saying the only thing consistent about our process is that we're constantly trying to improve our consistency and our process," Greg Masewic told Marc Arnold and Tom Dorsey in an episode of The Digital Shop Talk Radio.
As owners of three Meineke Car Care Centers in New Hampshire, Greg and Marc know how important those things can be.
Just think about your favorite burger place, Greg says.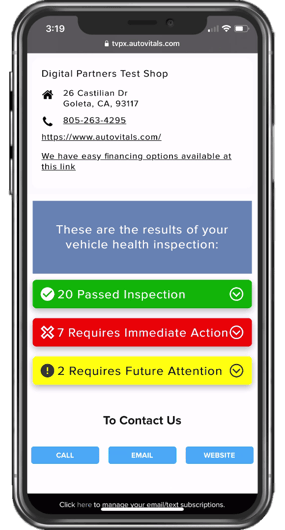 If you go to your favorite burger shop and get a burger with bacon, pickles, and cheese, but the next time you go, they forget the pickles or the third time you go, they forget the bacon. You realize the restaurant isn't consistent. So, you probably will take your business elsewhere.
"That's kind of the idea with the consistent process," Marc said, "giving them the same experience every time they're here."
If you don't, you are welcoming issues.
"It's when people don't know what to expect when they come into your shop, that's when they really start to get nervous and untrusting," he said. "They want that same experience every time, so that's what process allows you to give them. That's the key we think."
The Digital Vehicle Inspections (DVI) help to provide consistency. At the same time, they supply transparency to the motorist which leaves no place to hide sins, Greg said.
"If you tell them six months ago that they needed struts and CV axles and a tranny flush, and then they don't get any of that done, and then they come in six months later, and all of a sudden you don't tell them they need it again, they're going to be like, 'Well, did I need it then?'" Marc said.
Their secret weapon to consistency and success? AutoVitals.
AutoVitals, The Digital Shop® and Meineke

Greg and Marc were "patient zero" when it came to AutoVitals, and while they were eager to transition to The Digital Shop®, the manager of their Concord store was very much against the change.
"For the first year, [the manager] fought us tooth and nail on this thing," Greg remembered. "He was up there running a highly successful six-bay shop and was pretty convinced there was no way we could put another car or another dollar through this place; it was maxed out."
It took more than a year of Mark and Greg telling him a digital shop was going to happen no matter what before he finally got on board.
"He embraced it, and within six months, sales were up over 50%," Greg said. "Car count was rock solid, and everybody was making a lot more money, and since then, between all of our stores, he's now our greatest advocate.
In addition to dramatically increasing sales, the digital shop has enabled Greg and Mark to improve their auto repair shops in other ways.
"It really helps you find root causes for issues, right?" Greg said. "If research time is low, then we know we've got an issue with the drop off script, and that's actually what we've got to work on."
Once they fix those things, they see improvements almost instantly.
"Every problem we had was a bit of a mystery prior to [AutoVitals]," Greg said. "Things were not happening right, and you spent a lot of time trying to identify what the cause was. With this, you can get to that cause pretty quickly and get to work on fixing it."
Greg and Marc went all-in and now some of the techs and service advisors that hated it the most in the beginning, have changed their tune.
"[They] couldn't even imagine going a day without it now," Greg said. "It's incredible."
Room to improve
While Greg and Marc committed early on, they found AutoVitals also did something at their shops they weren't expecting.
"[The Technician Effectiveness Report] really shows you all the things you suck at," Greg said.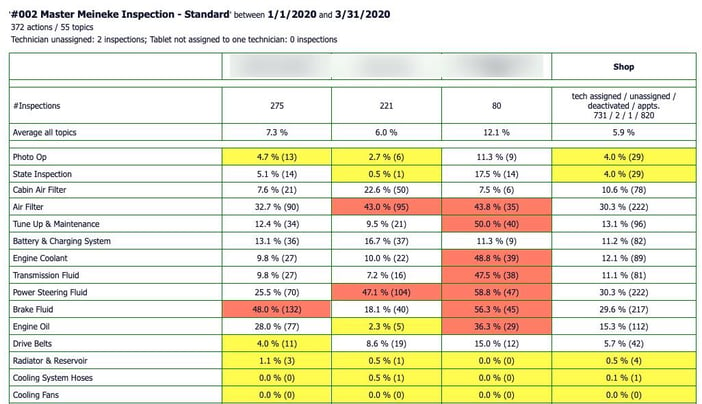 The Technician Effectiveness Report shows shops which techs are underselling and pencil-whipping, and who is performing consistent, top-selling inspections
For those who find change scary, or when there is ego involved, finding out you need to do things differently can be a rude awakening.
But becoming aware of those things isn't a bad thing, according to Marc and Greg, because there is always room for improvement.
"The day you think you're the greatest shop in town is the day you start going out of business, I think," Greg said.
Marc and Greg recently noticed they weren't selling many cabin filters, and when they looked at the technician effectiveness report, they realized it was because their repair techs weren't looking at them. It is improvements like these, that makes AutoVitals such an invaluable tool for them.
The AutoVitals Business Control Panel (BCP) has also been a game-changer.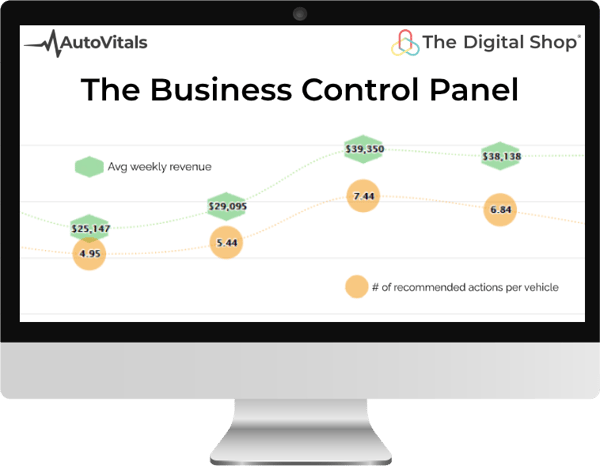 The AutoVitals Business Control Panel (BCP) is our powerful, easy-to-use tool to track the metrics that directly impact your ARO, helping take away the guesswork of process change and decision-making, and allowing shops to make educated, data-driven decisions.
"You know that old saying, 'You can't manage what you can't measure,'" Greg said. "Prior to [the BCP], we were getting information in late off of whatever reports we were running and constantly scrambling to try to get a number propped back up to where we wanted it. And there was a lot of stuff that we really couldn't even see. You know, inspection rate, prior to this, you really had no idea. You hoped everybody was doing a good inspection, and they all told you they were, but you couldn't measure it. The technician effectiveness report and the BCP, those are our two go-to things consistently."
Building habits of consistency
In addition to using AutoVitals, Marc and Greg also have a couple of other methods to ensure their repair shops are offering a consistent experience to the customer.
They set goals and focus on the areas they want to improve.
However, Marc has noticed sometimes when they are focusing on one area, another area can start to fall off. They work hard with their crew to break those habits and consistently follow their process, so it becomes second nature.
They also have frequent meetings, often weekly, where they go through KPIs and the BCP. They take note of where they fell off a bit, or where they have had success.
"We try and make sure that they get 'the why,'" Greg said. "Why we're doing this because if you want them to buy-in, that's really what they've got to understand."
Watch the full episode here
About AutoVitals
AutoVitals empowers automotive repair shops to increase profitability and revenue, improve inspection quantity and quality, and drive motorist satisfaction and retention. AutoVitals delivers The Digital Shop® software suite to help shops reach their business goals by upgrading to a digital operation. DVI.X enables industry-leading digital vehicle inspections. SmartFlow.X simplifies advanced workflow management for peak efficiency and consistency. DigitalShop.X delivers comprehensive digital marketing, website, and customer retention management. AutoVitals commits to the long-term success of customers with auto repair industry-leading onboarding, training, and support as well as inclusion in its thriving online community of nearly 4,000 automotive pros. More at AutoVitals.com.