Eight years ago, Jill Trotta felt uninspired with her career in the automotive industry when she came across a job posting that sounded intriguing.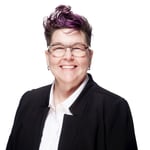 "I found an ad on the internet, and it said, 'Are you an AC Certified Master Technician who wants to do something different?'" Jill told Tom Dorsey in a recent episode of The Digital Shop® Talk Radio. "And I am. And I did."
That ad turned out to be for RepairPal, the company where, eight years later, she is the VP of Industry, Marketing, and Sales.
Jill's history in the automotive industry
Before she became disenfranchised, Jill had a long history of working with cars. It started when she was very young.
"My uncle owned an auto shop and spent a lot of time with me," Jill recalled. "I had a big old Volkswagen Bug, and instead of fixing it for me, he gave me an 'Idiots Guide' and told me if I wanted him to fix it, I had to pay him. Or, he would help me fix it."
She went to trade school and worked as an automotive technician, both in dealerships and in independent shops, and she even opened her own shop with a partner. When the partnership soured, she found another job but felt like it was time to get out of the industry.
When she found the RepairPal ad, her mindset started to change. She was hired as employee number 12, but now, they have more than 60 people working. Additionally, when she started, there were only 100 shops in their certified network, and since she has been there, they have nearly 2,700.
"It was my job to build the processes and lead the scaling of the network," Jill told Tom.
It hasn't been easy: Strong industry headwinds created some thick skin
But while looking at the numbers makes Jill's impact seem impressive, it doesn't show all of the challenging mountains she had to climb to get to where she and RepairPal are today.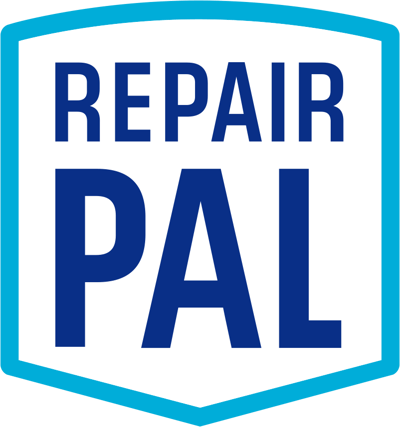 RepairPal was established in 2007, with a focus on the RepairPal Fair Price Estimator, which allowed consumers to determine what they should be paying for car repair. Years later, they launched the RepairPal Certified shop program to help consumers find a repair shop they can trust.
"It's been a crazy eight years," Jill said. "When we first came out, people hated us."
She remembers being at trade shows where people wouldn't talk to her or go out to dinner - even if she was paying.
"It evolved to where people would let us take them out to dinner, and now when we go to trade shows, we have a lot of people and big partners who want to meet and talk with us, and now people buy us dinner," she said. "That's kind of an amazing evolution."
The RepairPal mission
Jill told Tom that the RepairPal mission is focused on consumers and their cars, but they are also focused on shops that are for those consumers. While many products are based on bidding in a race towards the bottom, that isn't how RepairPal works.
"Our goal is to create a level playing field for shops and consumers where they can interact, to create a marketplace where they can interact, where consumers feel that they are getting a fair price, and where shops feel like they're able to charge a fair price."
At the same time, Jill has been in the industry long enough to know the bad rap that it often incurs.
"While I know most shop owners aren't [bad apples], they are hardworking people who want to help people," Jill said. "We provide a platform in a way for them [shops] to kind of bridge that initial trust gap."

One way that Jill and her team ensure their shops are worthy of certification is through heavy vetting. Certified shops have to make capital investments in training, tools, and equipment. Shops also have to have current training, a computerized shop management system, and good customer service scores. RepairPal knows this is expensive, so they realize that if you can't charge a reasonable amount for labor and parts, you won't make money, and the shop won't exist.
This is why labor rates are something else they focus on. If a shop's labor rate isn't in the range they expect, they have a conversation with the shop, letting them know that their labor rates ultimately hurt the industry.
"If you bring a car into your shop at a low labor rate and you're not going to make money, the only way you're going to make money is to sell things," Jill said. "That puts you into a really bad position. So, if we want labor rates to be fair in every shop, we don't let just anybody into our network."
Jill also stressed that they constantly monitor their certified shops, ensuring they continue to live up to the RepairPal standards.
"Our number one reason for attrition in our network is removal," said Jill. "We remove them."
An internal partner support team at RepairPal works as a peacemaker between the shop and RepairPal partners, including tow companies, extended warranty companies, telematics providers, or consumers. If any of the entities have a problem, the support team will work out the issue; either telling the shop they were wrong and possibly canceling their certification or telling a consumer the shop was fair.
Why is price transparency needed?
"Our data shows that about 80% of auto consumers are checking prices online before they come into the shop," Jill told Tom.
Those consumers are then calling your shop to check prices and see if your costs align with their research.
Many shops don't like having the price conversation or resist it, but the bottom line is, it's happening, and you can't ignore it, said Jill.
"It is in your best interest to at least educate yourself about what estimates are out there, how they're billed, and be able to have that conversation with the consumer."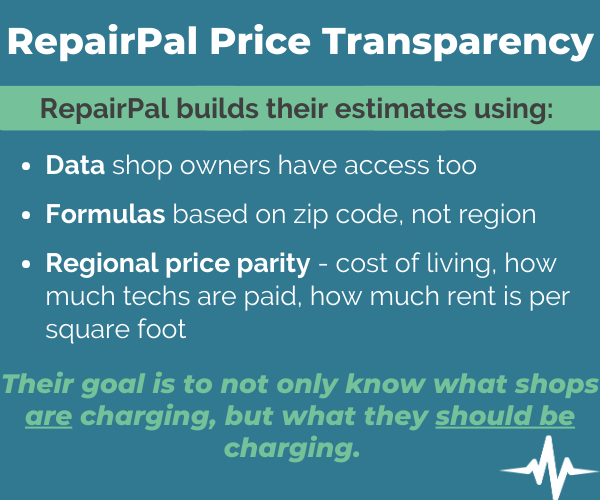 Jill also noted that RepairPal also uses feedback from their shops to help keep their estimator up-to-date. If it isn't, RepairPal will pay a shop the difference and make the adjustment.
"Some of the claims are a couple of thousand dollars," Jill said. "Our average claim is in the $150 range. That's our way of saying thank you for pointing this out because we'll fix it."
Having an estimator that is up to date is not only crucial for shops, but for consumers too, like it or not.
"We look at prices on everything," Jill said. "You know how much stuff costs now before you walk in somewhere because you've Googled it and looked around and tried to find the best price and reviews and everything."
Once the customer has come into your shop and you build that relationship, that's when the consumer doesn't check the estimate any longer. They're your customer.
One other exciting stat that Jill shared with Tom related to price checks after authorization.
"40% of the consumers check the price after they've already authorized it," she said. "You probably already have the car on your rack, and they may or may not say something to you. They may just be like, 'Wow, this person is not charging me a fair price, and I am not going to say anything because I'm kind of timid, but I'm certainly not going to go back.'"
RepairPal partner channel
How does RepairPal benefit a shop like yours?
Between its website with nearly 6 million hits a month and the extensive partner channel, RepairPal delivers between nine and twelve leads per month to shops.
From extended warranty providers to tow providers and telematics, RepairPal has created a vast network.
"One of the big wins and things we celebrate from 2020 is that when you go into Consumer Reports, and you look at their certified jobs, those are RepairPal certified jobs," Jill shared.

Just a few of the partners listed on the RepairPal website.
That is a way they drive leads to their certified shops. Another way is through CarMax. They highly encourage anybody who buys a vehicle from CarMax to use a RepairPal certified shop. The same goes for Agero, the largest tower behind AAA, Verizon, and USAA.
"That is our partner channel, and that is the thing that quite honestly drives the most value," Jill told Tom. "The average repair order is somewhere between $700 and $900, so it's the major repairs. It's not a lot of maintenance."
While the website drives ARO between $500 and $600, Jill and the team at RepairPal want to be clear that they aren't sending shops discounted work.
"You can't just look at it with the upfront cost of acquiring that customer," Jill told Tom. "What's the lifetime value of that customer? That's what we send."
RepairPal does come with a 10% fee for the work they send you, but if they don't send you anything, you don't pay anything.
From there, once the customer is in your shop, it is your turn to convert them into a returning motorist.
"We have shops who attributed [RepairPal] as the only reason they made it through [2020 and COVID] was because of the volume we sent them," Jill said.
It's those victories that have allowed her to stay in an industry she was considering leaving nearly a decade ago.
"In the last five, six years, the industry has evolved in a way that I don't think it evolved the previous 20 years."
Jill has developed a thick skin over the years, but now, looking back at her time with RepairPal, she couldn't be more proud.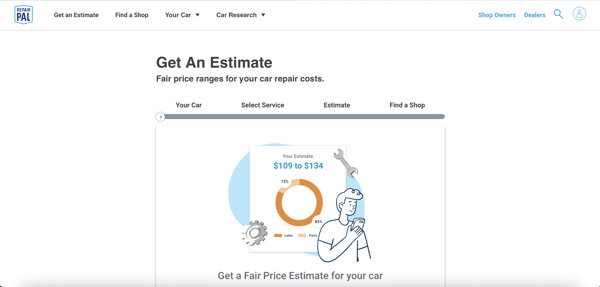 "It's just the message is evolving, and it's really been powerful to see it go from everybody hated us, to, at least people have an understanding now of what we're trying to do," she said. "We're delivering really good value to a lot of shops. I feel really proud about it. I am proud to be a part of it."
Going forward, she hopes that RepairPal can continue to make a difference in the industry.
"The reality is, just like for AutoVitals, for RepairPal, if [shops] don't exist, we don't exist," she said. "We want to be a friend to the industry. We want to be somebody who solves the problem that the industry has had. We're not here to hurt the industry. If we do, then we have a smaller customer pool. As long as people are being fair and transparent, and they're interested in providing a good experience, those are the shops we want."
Watch the full episode here: