As more and more research and buying decisions move online, your auto repair shop's online presence is just as significant as its physical storefront. A well-crafted website can attract new customers and solidify your shop's reputation and credibility. Consider incorporating these three key elements into your website strategy to set your auto repair shop apart from the competition.
Showcase Your Stellar Reputation Through Reviews
95% of people read reviews before making a purchasing decision. Moreover, nearly 60% of people report that they would pay more money for a product or service that had better reviews. Showcasing your auto repair shop's positive reputation can be a game-changer for attracting new customers and increasing your parts and labor margin. Your positive reviews should be front and center on your website to build trust and credibility among potential clients. You probably wouldn't visit a restaurant or buy a product online without reviews. So, ensure you make it easy for potential customers to see your reviews before booking an appointment.
It is not enough just to have reviews; it's about making them easily accessible and impactful on your website.
At AutoVitals, we display a summary of your shop's reviews prominently on every page of your website. This summary provides an at-a-glance overview of customers' positive experiences with your shop. That way, when potential customers land on your website, they don't need to hunt for reviews – they're right there, front and center. This approach reinforces that customers can trust your shop because of its excellent reputation. AutoVitals ensures that your shop's reviews are updated in real-time, reflecting the most recent feedback from satisfied clients. This dynamic presentation leaves a lasting impression and eliminates the need for customers to dig around for validation of your shop's reliability.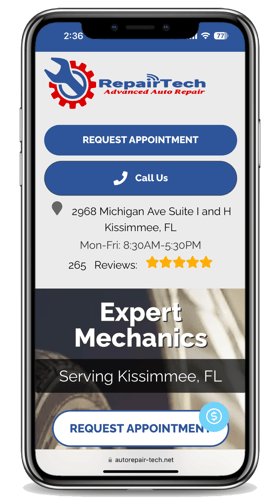 Streamlined Appointment Scheduling
Convenience is king, especially in the fast-paced world we live in. Customers who visit your auto repair shop's website shouldn't have to jump through hoops to book an appointment. Incorporating a clear and strategically positioned "Request Appointment" button can make a world of difference. Even more impressive is an appointment button that follows users as they navigate your website. This sticky feature ensures that no matter how far down the page visitors scroll, the button remains accessible, encouraging them to take action at any point.
When you partner with AutoVitals for your auto repair shop's website, website visitors will be guided to easily book an appointment at your shop. The user-friendly interface enhances the user experience and reflects your commitment to customer convenience. The ability to easily schedule an appointment with just a few clicks can be the deciding factor for potential clients who are juggling busy schedules.
Optimized Content for Enhanced SEO
While a visually appealing website is essential, it's equally important to have content that resonates with both your audience and search engines. Search Engine Optimization (SEO) is a strategy that helps your website rank higher in search engine results, increasing its visibility to potential customers. Incorporating SEO-optimized content can make your auto repair shop more discoverable online.
AutoVitals understands the importance of showcasing your shop's expertise. When creating content about the services your shop offers and the vehicles you specialize in, ensure that it's informative and optimized for relevant keywords. Incorporating relevant keywords like "brake repair" or "auto fluid leaks" naturally into your content increases the likelihood of your website appearing at the top of search results when potential customers search for auto repair services in your area.
Conclusion
In the competitive landscape of the auto repair industry, a standout website can make all the difference. By strategically incorporating elements that showcase your shop's reputation, streamlining appointment scheduling, and optimizing content for enhanced SEO, you're setting your auto repair business on the path to success.
Partnering with AutoVitals can transform your website from a mere online presence into a powerful tool that attracts, engages, and converts potential customers. From real-time review updates that boost credibility to sticky appointment scheduling buttons that prioritize convenience, AutoVitals offers solutions that resonate with the modern consumer. Your website is often customers' first interaction with your auto repair shop. Make it count by providing an exceptional experience that reflects the quality of service you offer in your physical location. By implementing these three elements and leveraging the expertise of AutoVitals, you're positioning your auto repair shop for growth and longevity in an ever-evolving digital landscape.